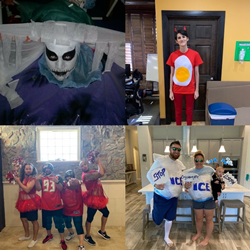 An important part of MaintenX's business philosophy is creating a positive and inclusive company culture.
TAMPA, Fla. (PRWEB) November 10, 2020
MaintenX International has announced the winners of the 2020 Halloween Costume Contest. Even though many team members are working from home due to the pandemic, the Halloween spirit was still strong across the country. Top winners received cash prizes and bragging rights for the year, and participants had the opportunity to take home prizes in a new 2020 category: funniest costume.
Carlos Cardona earned top marks in the Scariest Category for his spooky ensemble. Dressing as 'Deviled Eggs' earned Isabel Hernandez a first-place prize in the Most Creative Category. Josh Pound, Matt Valdes, Mary Ann Velez, Alex Carrillo's take on Tampa Bay Buccaneers players and cheerleaders was a touchdown in the Group Category. Finally, Nick Manganaro and Julie Wisniewski (featuring MaintenX's youngest team member, baby Cayden) collaborated on a hilarious "Ice, Ice Baby" costume, earning them the first-ever first place in the Funniest Costume Category.
"MaintenX team members are so talented and it's a blast to let them show off their creativity and personality each Halloween," said Bill Schaphorst, MaintenX's VP of Business Development. "An important part of MaintenX's business philosophy is creating a positive and inclusive company culture. We believe fun opportunities like costume contests, in addition to volunteer opportunities, team events and recognition programs helps foster a sense of comradery and support."
In addition to fun team-building opportunities, MaintenX employees enjoy 'spooky-good' benefits like medical, dental and vision insurance, paid vacations and holidays, and 401(k) options with a 5 percent match and immediate vesting. When able to be onsite, MaintenX team members enjoy unique benefits like bi-weekly sponsored lunches, a gym and weekly on-site carwashes.
MaintenX is proud of the positive, engaging work environment they've created for their team and continues to invest in fun ways to stay connected even while team members are apart. For more than 40 years, MaintenX has provided superior service and customer satisfaction, made possible by their incredible team of employees.
MaintenX is currently seeking a number of new MaintenX team members in a variety of positions across the country. Visit https://maintenx.com/career-opportunities/ to learn more.
ABOUT MAINTENX INTERNATIONAL:
MaintenX International is a fully-licensed, facilities repair company. They are one of the largest national self-performing facility maintenance and repair companies in the U.S. MaintenX has created a network of knowledgeable and professional technicians throughout the country. With their team of well-trained technicians, MaintenX self-performs and manages facility maintenance for clients. In the event there is not a MaintenX technician in the area, the company has fostered a network of preferred vendor partners throughout the country to provide superior service for their clients. For more than 40 years, MaintenX has been expertly serving multi-location retail stores, restaurant chains, and Fortune 500 companies nationwide.