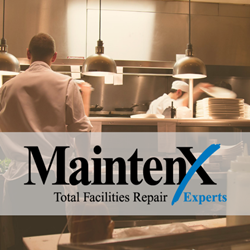 "These trying times require all of us to collaborate to keep facilities functioning and customers safe, and MaintenX is eager to be a resource for anyone that needs us."
TAMPA, Fla. (PRWEB) August 26, 2020
Connex, the leading trade organization for multi-site facilities management and supplier professionals, is dedicated to empowering members with best practices, benchmarking, education, discussion forums, and trusted partnerships. To that end, they invited MaintenX International VP of Business Development Bill Schaphorst to join The Daily Grind podcast to discuss how facility managers can deal with COVID-related plumbing issues.
Schaphorst discussed three major issues facility managers are encountering due to COVID: dry systems, increased demand for touchless infrastructure, and more frequent clogs.
"I'm so glad I could join Connex on The Daily Grind to share some of MaintenX's insights," said Schaphorst. "These trying times require all of us to collaborate to keep facilities functioning and customers safe, and MaintenX is eager to be a resource for anyone that needs us."
Many facilities, especially those in food service, have been shut down for weeks or months during COVID lockdowns; as workers return, some facility managers are encountering complaints of foul odors and equipment malfunction. The culprit - disuse itself. Simply put, plumbing systems are meant to be used and therefore meant to be constantly wet. When no one uses a sink or toilet for extended periods, the water in the p-trap that functions as a barrier between the plumbing and the facility evaporates, which allows sewer gases to infiltrate rooms. In addition, gaskets and fittings in plumbing can dry out and crack when not submerged, causing seals and equipment to fail. Sometimes the fix for these issues can be as small as pouring some water into floor drains to help reseal evaporated water barriers.
The pandemic has also prompted a necessary but dramatic increase in hand-washing. As a safety consideration, public facilities are switching to touchless faucets and toilets. While a positive public health development, it has resulted in large backlogs of touchless appliances. Facility managers should be prepared for a delay between order and installation if they choose to move to touchless infrastructure in the near future.
Finally, the increased prominence of sanitation and personal hygiene has also increased usage of paper products and the load they place on plumbing infrastructure. Coupled with high demand, this has made the kind of rapid-response maintenance services that MaintenX International provides even more vital to businesses across America. Increasing the cadence of scheduled cleanings, providing additional trash receptacles, and placing increased signage about proper waste disposal can help reduce the strain on plumbing systems.
For more information about MaintenX visit http://www.maintenx.com, or to watch the full The Daily Grind interview visit https://livestream.com/connexevents/events/9261655/videos/210065215.
ABOUT MAINTENX INTERNATIONAL:
MaintenX International is a fully licensed, facilities repair company. As one of the largest national self-performing facility maintenance and repair companies in the U.S., MaintenX has created a wide network of knowledgeable and professional technicians throughout the country. With their team of well-trained technicians, MaintenX self-performs and manages facility maintenance for their clients. In the event there is not a MaintenX technician in an area, the company has established a network of preferred vendor partners throughout the country for continued superior service for their clients.
For more than 40 years, MaintenX has been expertly serving multi-location retail stores, restaurant chains and Fortune 500 companies nationwide. Learn more at http://www.maintenx.com.
ABOUT CONNEX:
Connex, the authority on Retail and Multi-site Facilities Management, is the leading membership organization for facility managers and supplier professionals. Connex empowers the facilities management professionals with best practices, benchmarking, education, discussion forums and trusted partnerships.
Established in 1995, and with approximately 950 member companies, the Connex community values are founded on a spirit of innovation, resourcefulness, the quest for knowledge and ethical business relationships. Members depend upon Connex to help them achieve greater success and a competitive advantage through quality programs and resources. Learn more at http://www.connexfm.com.