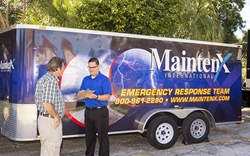 From water diversion to 24-hour power generation, MaintenX can step in when a business has an unexpected need.
TAMPA, Fla. (PRWEB) September 12, 2018
Facilities managers are responsible for all aspects of their space. MaintenX Emergency Services is always ready to help facility managers, regardless of the size of the issue. From water diversion to 24-hour power generation, MaintenX can step in when a business has an unexpected need.
"MaintenX technicians have the skills and resources to help facility managers in an emergency," said Bill Schaphorst, MaintenX's VP of Business Development. "Our team is ready and able to help, no matter the magnitude of the situation."
On the small end of the emergency scale, MaintenX can help facilities when there are water leaks, faulty appliances, or other issues that get in the way of business as usual. When things get tough, they can assist with major plumbing or roof repair, 24-hour power generation, and refueling, as well as emergency refrigeration services.
Additionally, MaintenX, headquartered in Florida, can help businesses prepare for extreme weather and hurricanes. With a recent $1 million investment in emergency equipment, MaintenX can provide full sandbag support, window boarding, commercial generators, and more for companies that are expecting a storm.
For more information about MaintenX and the emergency facility services they offer, visit http://www.maintenx.com.
ABOUT MAINTENX INTERNATIONAL:
MaintenX International is a fully-licensed, facilities repair company. They are one of the largest national self-performing facility maintenance and repair companies in the U.S. MaintenX has created a network of knowledgeable and professional technicians throughout the country. With their team of well-trained technicians, MaintenX self-performs and manages facility maintenance for clients. In the event there is not a MaintenX technician in the area, the company has fostered a network of preferred vendor partners throughout the country to provide superior service for their clients. For more than 35 years, MaintenX has been expertly serving multi-location retail stores, restaurant chains, and Fortune 500 companies nationwide.