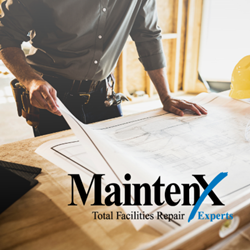 The steps you take to harden your facility against cold conditions will serve you well throughout the year while saving you money and time.
TAMPA, Fla. (PRWEB) December 22, 2020
The winter solstice has arrived, and most of the country is already experiencing cold weather. From bursting pipes to malfunctioning furnaces, the cold presents a variety of challenges to commercial facilities – especially retail stores that depend on foot traffic to stay in business. Because of those challenges, MaintenX International encourages commercial facilities to focus on preventative maintenance to ensure their systems stay up and running throughout the winter.
"Preventative maintenance for winter isn't only about avoiding malfunctions and downtime," said MaintenX Director of Service MaryAnn Velez. "The steps you take to harden your facility against cold conditions will serve you well throughout the year while saving you money and time."
There are a number of ways to protect your facility from low temperatures, but it starts with a good preventative maintenance plan. Take an inventory of your critical systems and equipment and record their condition, their service history, and expected lifespan. Then come up with a maintenance schedule that tracks how frequently they need to be serviced to maintain high function, not allowing them to fail suddenly, and follow it to the letter.
Winter cold presents specific challenges to your facility, but many can be solved with proper insulation, which prevents cold-weather condensation, improves employee comfort, and lowers overall energy usage. Once you've attended to the inside of your facility, however, don't forget the outside. OSHA has strict standards regarding snow removal, which is vital for preventing slip-and-fall injuries, car accidents, and roof damage.
MaintenX has been helping commercial facilities across the country weather the winter for more than 40 years. To learn more about MaintenX and their services, visit http://www.maintenx.com or call 855-751-0075.
ABOUT MAINTENX INTERNATIONAL:
MaintenX International is a fully licensed facilities repair company. They are one of the largest national self-performing facility maintenance and repair companies in the U.S. MaintenX has created a network of knowledgeable and professional technicians throughout the country. With their team of well-trained technicians, MaintenX self-performs and manages facility maintenance for clients. In the event there is not a MaintenX technician in the area, the company has fostered a network of preferred vendor partners throughout the country to provide superior service for their clients. For more than 40 years, MaintenX has been expertly serving multi-location retail stores, restaurant chains, and Fortune 500 companies nationwide.