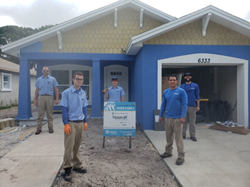 MaintenX is honored to be a part of creating a home for a deserving family, especially at a time when a house represents such a safe place to be.
TAMPA, Fla. (PRWEB) April 01, 2020
MaintenX International, one of the nation's largest proactive and reactive facility maintenance providers, is putting the finishing touches on a very special house. Identified as an essential business during the coronavirus outbreak, MaintenX was able to spend Tuesday onsite finishing HVAC and plumbing installation at their Habitat for Humanity home being built for the Ross family in in Pinellas County, Fla. For the Ross home, MaintenX stepped up their participation and worked with Habitat for Humanity so that they could be the HVAC and Plumbing Subcontractor. MaintenX was able to complete these important elements of the home build while using proper social distancing and hygiene protocols. This is the second Habitat for Humanity home that MaintenX has sponsored.
"MaintenX is honored to be a part of creating a home for a deserving family, especially at a time when a house represents such a safe place to be," said Bill Schaphorst, MaintenX's VP of Business Development. "We are thankful to the dedicated Habitat for Habitat team members for pulling together during a difficult time and making sure that homes are still being built for deserving families."
The four-bed, two-bath home will be presented to the Ross family in April, although corona virus-concerns have required more flexibility in scheduling the official home dedication. Since February, MaintenX volunteers could be found hard at work, helping with window insulation and framing and installing the shingles to complete the roof. MaintenX volunteers and technicians have donated more than 700 hours of their time to help build a forever home for the Ross family.
MaintenX is committed to serving their customers and their community. In addition to completing their services on their Habitat for Humanity home, MaintenX is open to serve their customers from coast to coast. Using best-practice preventative measures like personal protective equipment, social distancing, and frequent hand-washing, MaintenX is prepared to provide uninterrupted safety- and satisfaction-focused maintenance services for facility managers during these uncertain times.
To learn more about MaintenX and their commitment to their community, visit http://www.maintenx.com.
ABOUT MAINTENX INTERNATIONAL:
MaintenX International is a fully licensed, facilities repair company. As one of the largest national self-performing facility maintenance and repair companies in the U.S., MaintenX has created a wide network of knowledgeable and professional technicians throughout the country. With their team of well-trained technicians, MaintenX self-performs and manages facility maintenance for their clients. In the event there is not a MaintenX technician in an area, the company has established a network of preferred vendor partners throughout the country for continued superior service for their clients. For more than 40 years, MaintenX has been expertly serving multi-location retail stores, restaurant chains and Fortune 500 companies nationwide. matter if the need is roofing or plumbing or electrical services. Rather than engage multiple companies to fulfill a variety maintenance needs, MaintenX provides unique peace-of-mind with their ability to manage a suite of services from curb to roof.