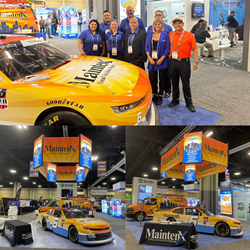 "It was great to engage with our fellow industry professionals in person," said MaintenX VP of Business Development Bill Schaphorst. "The restaurant industry is tuned up and fully fueled for the return to pre-pandemic business, just like Ryan Vargas!"
TAMPA, Fla. (PRWEB) June 29, 2021
MaintenX International, one of the nation's largest providers of facility maintenance for commercial buildings, was proud to be the Platinum Sponsor of the Restaurant Facility Management Association's 2021 national conference in Charlotte, NC. The event, which took place June 22-24, brought together industry professionals from around the country to make new connections, share best practices, and stay up to date on the latest technology.
The conference's theme was "Getting Restaurant Facilities BACK ON TRACK," an homage to Charlotte's history as a mecca for auto racing and the home of NASCAR. In homage to that theme, MaintenX-sponsored Xfinity Series driver and Rookie of the Year candidate Ryan Vargas appeared with his MaintenX-wrapped #6 Camaro.
"It was great to engage with our fellow industry professionals in person," said MaintenX VP of Business Development Bill Schaphorst. "The restaurant industry is tuned up and fully fueled for the return to pre-pandemic business, just like Ryan Vargas!"
Attendees flocked to Vargas's #6 car, which was displayed in the exhibit hall for photo opportunities, and Ryan himself joined the MaintenX team at their new #529 booth to meet industry professionals and provide autographs. All conference registration bags and lanyards carried MaintenX branding as part of the Platinum sponsorship.
Tampa-based MaintenX has been providing quality commercial maintenance services to restaurants and businesses of all sizes nationwide for more than 40 years. To learn more about their services and history of excellence, visit https://maintenx.com/.
ABOUT MAINTENX INTERNATIONAL:
MaintenX International is a fully licensed, facilities repair company. As one of the largest national self-performing facility maintenance and repair companies in the U.S., MaintenX has created a wide network of knowledgeable and professional technicians throughout the country. With their team of well-trained technicians, MaintenX self-performs and manages facility maintenance for their clients. In the event there is not a MaintenX technician in an area, the company has established a network of preferred vendor partners throughout the country for continued superior service for their clients. For more than 40 years, MaintenX has been expertly serving multi-location retail stores, restaurant chains and Fortune 500 companies nationwide.