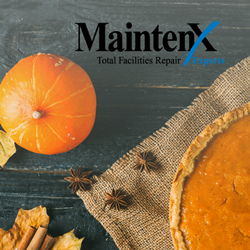 2020 has been challenging for everyone, so taking time for thankfulness is more important than ever.
TAMPA, Fla. (PRWEB) November 25, 2020
As Thanksgiving approaches, MaintenX International thanks its fantastic team members and loyal customers. During a difficult and confusing year, MaintenX team members have shown steadfastness, adaptability, and outstanding commitment to the organization. MaintenX is grateful to its customers as well, who trusted them through hurricanes, COVID lockdowns, and myriad other uncertainties, enabling MaintenX to continue giving back to the community.
MaintenX team members have proudly come together on all sorts of philanthropic projects in 2020, from building houses with Habitat for Humanity, to serving at the RFMA Gives service day, to the annual Salvation Army Angel Tree gift event. The involvement reflects MaintenX's close ties to, and personal connection with, its community.
"2020 has been challenging for everyone, so taking time for thankfulness is more important than ever," said MaintenX VP of Business Development Bill Schaphorst. "Our attitude of gratitude encompasses our team and clients alike – we couldn't do it without you!"
MaintenX's team is available to address any maintenance issues at commercial facilities during the holidays, including Black Friday. Learn more about how MaintenX can help by visiting http://www.maintenx.com or calling 855-751-0075.
ABOUT MAINTENX INTERNATIONAL:
MaintenX International is a fully licensed facilities repair company. They are one of the largest national self-performing facility maintenance and repair companies in the U.S. MaintenX has created a network of knowledgeable and professional technicians throughout the country. With their team of well-trained technicians, MaintenX self-performs and manages facility maintenance for clients. In the event there is not a MaintenX technician in the area, the company has fostered a network of preferred vendor partners throughout the country to provide superior service for their clients. For more than 40 years, MaintenX has been expertly serving multi-location retail stores, restaurant chains, and Fortune 500 companies nationwide.