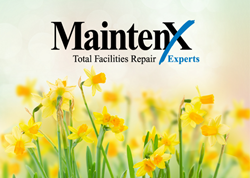 March 20 officially marked the beginning of the Spring season, and MaintenX International encourages facility managers to consider what needs to be done to welcome the warmer, wetter weather.
TAMPA, Fla. (PRWEB) March 23, 2021
Spring is here, and with it, thoughts of more sunshine and colorful flowers. However, these beautiful elements of Spring bring warmer temperatures and more rain, which can both be hard on facilities. March 20 officially marked the beginning of the Spring season, and MaintenX International encourages facility managers to consider what needs to be done to welcome the warmer, wetter weather.
"Spring is the perfect time to prepare your facility for some of the harshest weather of the year," said Bill Schaphorst, MaintenX's VP of Business Development. "At MaintenX, we encourage facility managers to invest their time and energy in preventative maintenance now, as it can reduce the likelihood of major failures or costly repairs in the hot and rainy months ahead."
MaintenX offers these spring cleaning tips to help facility managers get a head start on the season:

Help Ensure Comfort: As weather warms, HVAC systems across the country will be switching from blowing hot to blowing cold. During this shift, it's wise to perform preventative maintenance. Ensuring that HVAC issues are identified early helps reduce the likelihood staff and customers will experience uncomfortable temperatures in your building. Additionally, this is a great time of year to check and clean your vents and ducts – pests and mold can make an unwelcome home in an HVAC unit over winter months.
Stay Safe and Dry: Spring months bring more rain and water, and the intense heat and heavy rains of summer are just around the corner, so it is wise for facility managers to be prepared. Inside, the use of absorbent entrance mats can help reduce the amount of water and dirt tracked into a facility in addition to reducing the chance of an employee or customer slipping on wet flooring. It's also nice to consider ways to include thoughtful touches, like providing umbrella stands or drip bags near entrances.
Start at the Top: A good, solid roof is an excellent defense against all kinds of weather. Florida-based MaintenX knows a thing or two about the importance of a well-maintained roof to keep out the damaging effects of intense sun and heavy rain. To keep facilities at their peak, facility managers should check the roof for any signs of wear or damage. Spring is a perfect time to make repairs that will help reduce the likelihood of leaks that can lead to serious issues like mold or structural damage that can compromise the safety of the entire roof.
Step Outside: The exterior of a building can take a beating in cold months. Heavy foot traffic during the holiday shopping season, snow and salt damage in colder climates, and browned or dead landscaping can all take a toll on the look and appearance of any building. Spring is a perfect time to assess any hazards or damage that occurred during winter months. Common damage includes dead branches or lingering plant debris, new holes or cracks in sidewalks, and loose paving stones. Facility managers should arrange to have these hazards cleared, either by maintenance staff or by a team of professionals, like the technicians at MaintenX.
To learn more about MaintenX and the services they provide, visit http://www.maintenx.com.
ABOUT MAINTENX INTERNATIONAL:
MaintenX International is a fully licensed, facilities repair company. As one of the largest national self-performing facility maintenance and repair companies in the U.S., MaintenX has created a wide network of knowledgeable and professional technicians throughout the country. With their team of well-trained technicians, MaintenX self-performs and manages facility maintenance for their clients. In the event there is not a MaintenX technician in an area, the company has established a network of preferred vendor partners throughout the country for continued superior service for their clients. For more than 40 years, MaintenX has been expertly serving multi-location retail stores, restaurant chains and Fortune 500 companies nationwide.