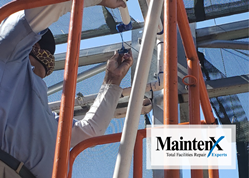 Demand for services is great, but so is the passion of our team members for helping businesses with their maintenance needs.
TAMPA, Fla. (PRWEB) February 26, 2021
As winter weather and freezing temperatures blasted across Texas and neighboring states, many people were trying to stay safe and warm in their homes. However, for facility managers, their minds were also on how to ensure their businesses were also staying safe. MaintenX International, with one of the nation's largest networks of self-performing technicians, was at the ready to serve and help get facilities back to business-as-usual.
"This storm created some extreme situations for businesses in Texas, Oklahoma, Alabama and Louisiana," said Mary Ann Velez, MaintenX Director of National Service. "With icy roads and delivery delays, I was so proud to see the creativity and commitment our technicians showed in making sure they had the right supplies and equipment to help our customers repair their storm damage quickly and safely."
While many storms result in the need for power generators and generator fuel delivery, this winter storm also created plumbing issues. MaintenX helped perform water extraction services to decrease damage inside and outside of businesses, and also provided plumbing repairs.
"After the storm, our team had hundreds of calls from facilities looking for repairs and emergency maintenance projects," said Velez. "The storm was devastating and demand for services is great, but so is the passion of our team members for helping businesses with their maintenance needs."
Demand for repair services is likely to linger. Lawmakers and analysis believe the damage could result in the winter storm being the most costly in Texas state history and recovery will take time.
For more information about MaintenX and their ability to provide emergency maintenance services nationwide, visit http://www.maintenx.com.
ABOUT MAINTENX INTERNATIONAL:
MaintenX International is a fully licensed, facilities repair company. As one of the largest national self-performing facility maintenance and repair companies in the U.S., MaintenX has created a wide network of knowledgeable and professional technicians throughout the country. With their team of well-trained technicians, MaintenX self-performs and manages facility maintenance for their clients. In the event there is not a MaintenX technician in an area, the company has established a network of preferred vendor partners throughout the country for continued superior service for their clients. For more than 40 years, MaintenX has been expertly serving multi-location retail stores, restaurant chains and Fortune 500 companies nationwide.