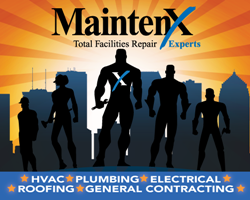 RFMA Gives demonstrates what is possible when we all work together, and is an incredible opportunity to unite the restaurant facility management community.
TAMPA, Fla. (PRWEB) July 15, 2020
MaintenX International believes that giving back to the community is key to their success. In service of that ethos, MaintenX VP of Business Development Bill Schaphorst will represent MaintenX as a project manager for RFMA Gives 2021, the Restaurant Facility Management Association's (RFMA) yearly charitable project.
RFMA Gives 2021 will support The Dorothy Day Soup Kitchen in Rock Hill, SC. The Dorothy Day Soup Kitchen provides a hot lunch, resources, and a friendly smile to those in need in the South Carolina upstate. In June 2020, the kitchen set an all-time record for meals served, due in large part to the economic and social disruptions created by the COVID-19 pandemic. These challenging times have created an even greater need for food assistance, making RFMA and MaintenX's commitment to serve even more vital.
"MaintenX International is always ready to give back to the cities we live, work and play in, and I'm thrilled to be able to give back to my own community" said Schaphorst, who resides just a few miles north of the soup kitchen in Charlotte, NC. "RFMA Gives demonstrates what is possible when we all work together, and is an incredible opportunity to unite the restaurant facility management community. By contributing our professional knowledge to the project, we get to help the community by doing what we do best."
As a project manager, Schaphorst will be joining two other facility management professionals - Jeff Wells, CRFP, recently retired from Bojangles and Josh Greco from 23rd Group – to do a deep dive at the facility, and determine the wish list of needs to help further Dorothy Day's growth and ability to serve their community. While a major volunteer day is scheduled for October, and a celebration of The Dorothy Day Soup Kitchen is planned for RFMA's annual conference in Spring 2021, plans and dates remain flexible due to the ongoing pandemic.
RFMA Gives is celebrating its tenth year of remodeling or repairing a deserving charitable shelter or kitchen.
RFMA member companies donate their talents and resources to help restore the year's selected facility. RFMA's charitable efforts have aided organizations across the nation, including Denver's Stout Street Foundation, Austin's Mobile Loaves & Fishes, and Orlando's The Daily Bread.
For more information about MaintenX, visit http://www.maintenx.com.
ABOUT MAINTENX INTERNATIONAL:
MaintenX International is a fully licensed, facilities repair company. As one of the largest national self-performing facility maintenance and repair companies in the U.S., MaintenX has created a wide network of knowledgeable and professional technicians throughout the country. With their team of well-trained technicians, MaintenX self-performs and manages facility maintenance for their clients. In the event there is not a MaintenX technician in an area, the company has established a network of preferred vendor partners throughout the country for continued superior service for their clients. For more than 40 years, MaintenX has been expertly serving multi-location retail stores, restaurant chains and Fortune 500 companies nationwide.