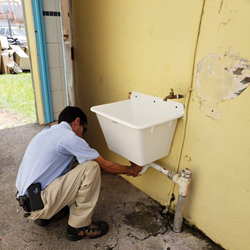 Part of the MaintenX culture is giving back to our community, wherever we are.
TAMPA, Fla. (PRWEB) August 08, 2018
MaintenX International, a Tampa-based facilities repair company, helped install appliances for a school in need in Puerto Rico. Working with All Hands and Hearts, MaintenX technicians stationed in Puerto Rico donated their time and skill to help install plumbing for water fountains and bathroom sinks before the children come back to start the new school year.
"Part of the MaintenX culture is giving back to our community, wherever we are," said Bill Schaphorst, MaintenX's VP of Business Development. "When we were asked to help with installation at the school by the All Hands and Heart foundation we were thrilled to be able to assist."
After the 2017 hurricane season, and the destruction caused in Puerto Rico by Hurricanes Irma and Maria, there are a number of communities still in need of disaster relief and repair. All Hands and Hearts is a response organization committed to helping communities recover from the immediate and long-term impacts on natural disasters. When plumbing skills were needed for their recovery efforts, MaintenX was ready and willing to help. More information about their mission, programs and volunteer opportunities are available at http://www.allhandsandhearts.org.
MaintenX International has been providing maintenance service to businesses across the nation – including Puerto Rico - for more than 35 years. Technicians can assist companies with services ranging from plumbing and installations to electric and roofing. MaintenX also specializes in creating personalized preventative maintenance schedules, helping companies maintain their equipment while reducing unexpected breakdowns and costs.
For more information about MaintenX, visit http://www.maintenx.com.
ABOUT MAINTENX INTERNATIONAL:
MaintenX International is a fully licensed, facilities repair company. As one of the largest national self-performing facility maintenance and repair companies in the U.S., MaintenX has created a wide network of knowledgeable and professional technicians throughout the country. With their team of well-trained technicians, MaintenX self-performs and manages facility maintenance for their clients. In the event there is not a MaintenX technician in an area, the company has established a network of preferred vendor partners throughout the country for continued superior service for their clients. For over 35 years, MaintenX has been expertly serving multi-location retail stores, restaurant chains and Fortune 500 companies nationwide.