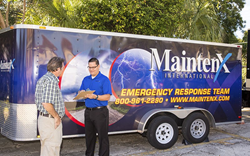 These are unprecedented times and we will all get through this together.
TAMPA, Fla. (PRWEB) March 30, 2020
As businesses across the country find themselves impacted by the novel coronavirus, COVID-19, MaintenX International is ready to help. From assisting pharmacies, grocery and convenience stores, and home supply stores, the Tampa-based provider of facility maintenance is proud to be able to support essential businesses in communities from coast to coast. MaintenX knows that reliable facility maintenance is an absolute requirement to essential businesses in these unpredictable times.
"We will not close. We will serve our customers as long as they need us," Schaphorst. "These are unprecedented times and we will all get through this together."
MaintenX is assisting national pharmacy chains with unique, timely projects like providing assistance in setting up COVID-19 testing sites. MaintenX's extensive fleet of commercial generators and refueling trucks ensures that testing sites have access to power for freezers and fridges, electrical outlets for charging computers and printers, as well as interior tent lighting. In colder climates, the generator power will also keep healthcare providers and their patients warm, though the use of portable heaters.
When serving essential businesses, MaintenX's team of knowledgeable technicians are using best practices from the Center for Disease Control and medical professionals. Technicians are maintaining 6-foot distance from customers, washing hands frequently or using hand sanitizer, and wearing personal protective equipment as the job requires.
"We think of our customers like family," said Schaphorst. "So, you can trust our team to treat you like family."
To learn more about MaintenX and the services they provide, visit http://www.maintenx.com.
ABOUT MAINTENX INTERNATIONAL:
MaintenX International is a fully licensed, facilities repair company. As one of the largest national self-performing facility maintenance and repair companies in the U.S., MaintenX has created a wide network of knowledgeable and professional technicians throughout the country. With their team of well-trained technicians, MaintenX self-performs and manages facility maintenance for their clients. In the event there is not a MaintenX technician in an area, the company has established a network of preferred vendor partners throughout the country for continued superior service for their clients. For more than 40 years, MaintenX has been expertly serving multi-location retail stores, restaurant chains and Fortune 500 companies nationwide. matter if the need is roofing or plumbing or electrical services. Rather than engage multiple companies to fulfill a variety maintenance needs, MaintenX provides unique peace-of-mind with their ability to manage a suite of services from curb to roof.