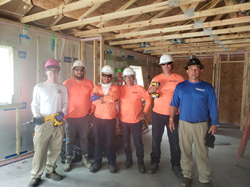 MaintenX feels honored to partner with Habitat for Humanity to bring this home from vision to reality.
TAMPA, Fla. (PRWEB) February 27, 2020
MaintenX International, one of the nation's largest proactive and reactive facility maintenance providers, has taken on an especially meaningful project. Sponsoring their second Habitat for Humanity home in Pinellas County, Fla., Team MaintenX knew they wanted to be even more involved with the build the second time around. Working with the Habitat for Humanity of Pinellas team, MaintenX officially became the project's plumber, roofer, framer, HVAC and finish carpentry subcontractor, and this week, passed the initial Plumbing, HVAC, Roofing (sheathing & Metal/Dry in) and Framing Inspections.
The four-bed, two-bath home will be presented to the deserving Ross family later this year. During the next few weeks, MaintenX volunteers will be hard at work finalizing insulation, helping with window installation and framing, and installing the shingles to complete the roof. Lashawn Ross, who has three young children, is looking forward to moving in this spring.
"MaintenX feels honored to partner with Habitat for Humanity to bring this home from vision to reality," said Bill Schaphorst, MaintenX's VP of Business Development. "We are thrilled to use our skills to help make a family's dream of homeownership come true."
This year's volunteers will all receive onsite catered lunches and team shirts. MaintenX will also reaffirm their commitment to safety by providing safety equipment to all their volunteers. While, as a house sponsor, MaintenX is required to volunteer 200 service hours, the final number from the team will be much higher. Last year, MaintenX set a record of volunteer hours for their local Habitat chapter, and is on track to continue their volunteer excellence in 2020.
To learn more about MaintenX and their commitment to their community, visit http://www.maintenx.com.
ABOUT MAINTENX INTERNATIONAL:
MaintenX International is a fully licensed, facilities repair company. As one of the largest national self-performing facility maintenance and repair companies in the U.S., MaintenX has created a wide network of knowledgeable and professional technicians throughout the country. With their team of well-trained technicians, MaintenX self-performs and manages facility maintenance for their clients. In the event there is not a MaintenX technician in an area, the company has established a network of preferred vendor partners throughout the country for continued superior service for their clients. For more than 40 years, MaintenX has been expertly serving multi-location retail stores, restaurant chains and Fortune 500 companies nationwide. matter if the need is roofing or plumbing or electrical services. Rather than engage multiple companies to fulfill a variety maintenance needs, MaintenX provides unique peace-of-mind with their ability to manage a suite of services from curb to roof.