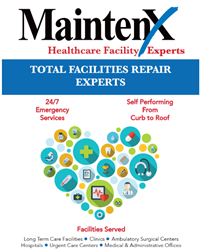 MaintenX is a one-stop resource for healthcare facilities, no matter if the need is roofing, plumbing or electrical services.
TAMPA, Fla. (PRWEB) February 21, 2020
The business of healthcare management is complex. From providing the best care to patients, maintaining offices and staff, keeping up with industry trends and ensuring patients digital and physical safety, there are many things to keep up with. Very often, building health can fall to the wayside.
That's why MaintenX International's is excited to provide their insights on healthcare facility maintenance to attendees at the North Carolina Health Care Facilities Association (NCHCFA) Annual Convention. MaintenX team members, including Regional Business Development Managers Kate Alford and Eric Williams, will be available to discuss healthcare-specific facility services at the three-day event, taking place February 23-26 in Greensboro, NC.
"We are glad to lessen the burden of facility maintenance for healthcare facilities, giving them additional time and resources to invest in their staff, business and patients," said Bill Schaphorst. "When we succeed, caregivers can completely focus on their work, knowing that maintenance is taken care of."
MaintenX will be part of the 170-vendor-strong expo at the convention. In addition to industry trends, insights, and opportunities for networking, attendees will enjoy a "Roaring Fifties Revival" theme, with MaintenX's new 10' by 10' booth featuring a backlit display and memorabilia from the founding decade of the NCHCFA. Booth visitors will be able to earn validation to enter a grand prize drawing, in addition to the exciting prizes awarded by vendors throughout the event.
Among the nation's largest self-performing maintenance providers, MaintenX is a one-stop resource for healthcare facilities, no matter if the need is roofing or plumbing or electrical services. Rather than engage multiple companies to fulfill a variety maintenance needs, MaintenX provides unique peace-of-mind with their ability to manage a suite of services from curb to roof.
Currently, MaintenX is focused on serving healthcare facilities in the southeast region of the country, however they continue to expand their services to other states. For more information about MaintenX and the services they provide, visit http://www.maintenx.com/services.
ABOUT MAINTENX INTERNATIONAL:
MaintenX International is a fully-licensed, facilities repair company. They are one of the largest national self-performing facility maintenance and repair companies in the U.S. MaintenX has created a network of knowledgeable and professional technicians throughout the country. With their team of well-trained technicians, MaintenX self-performs and manages facility maintenance for clients. In the event there is not a MaintenX technician in the area, the company has fostered a network of preferred vendor partners throughout the country to provide superior service for their clients. For more than 40 years, MaintenX has been expertly serving multi-location retail stores, restaurant chains, and Fortune 500 companies nationwide.