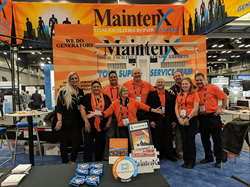 'We look forward to the opportunity to share the MaintenX difference with clients, potential new clients and industry peers.' - Bill Schaphorst
TAMPA, Fla. (PRWEB) January 24, 2020
What do electricians, facility managers, multi-site retailers and restaurants have in common? All will have the opportunity to meet with MaintenX, one of the nation's largest self-performing facility maintenance companies, at their respective industry conferences and trade-shows this spring.
"We look forward to the opportunity to share the MaintenX difference with clients, potential new clients and industry peers," said Bill Schaphorst, MaintenX's VP of Business Development. "Whether it's offering a new take on an industry trend or simply listening to a facility manager to better understand how to optimize their maintenance schedule, being at trade shows and getting to engage with people face to face is invaluable. It is my favorite time of the year."
Due to MaintenX's coast-to-coast network of self-performing technicians and their vast offering of maintenance services, almost every segment of the facility maintenance marketplace can benefit from their superior customer service and laser-focused approach to work-order management. From roofing and scheduled maintenance to HVAC and plumbing, MaintenX can do it all.
This spring, MaintenX team members will be attending major conferences from coast to coast. March 8-10 will see the MaintenX Super Service Team at the RFMA 2020 annual conference in Denver, Colorado. The following week, team members will get to chat with retail and supply chain partners at SPECS Show 2020 in Dallas, Texas. Team members head to Atlanta, Georgia from March 29 to April 1 to attend the EEI National Key Accounts Workshop. Connex 2020 will bring industry leaders together from April 20-22 in in Orlando, Florida to discuss multi-site facilities.
Conference attendees will be able to see MaintenX newly designed booth. The new set-up will feature a 5' hanging sign and a MaintenX facility maintenance van fully stocked with equipment to showcase the full suite of service capabilities offered. The set-up will give new and returning clients additional space in the booth for discussions and demonstrations. Additionally, MaintenX will announce attendance at more conferences and shows throughout the next few months.
"Keeping our boots on the ground lets us hear what facility managers are really dealing with and how we can provide the services that best meet their needs," said Schaphorst.
To learn more about the MaintenX difference, visit http://www.maintenx.com.
ABOUT MAINTENX INTERNATIONAL:
MaintenX International is a fully licensed, facilities repair company. As one of the largest national self-performing facility maintenance and repair companies in the U.S., MaintenX has created a wide network of knowledgeable and professional technicians throughout the country. With their team of well-trained technicians, MaintenX self-performs and manages facility maintenance for their clients. In the event there is not a MaintenX technician in an area, the company has established a network of preferred vendor partners throughout the country for continued superior service for their clients. For more than 40 years, MaintenX has been expertly serving multi-location retail stores, restaurant chains and Fortune 500 companies nationwide.