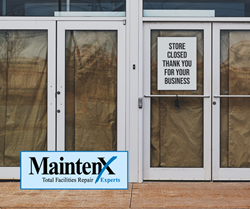 Many facility managers are facing challenges they've never expected or experienced before.
TAMPA, Fla. (PRWEB) January 29, 2021
As restaurants, bars, shops, and clubs face the one-year anniversary since the beginning of the Covid-19 pandemic, many facility managers are facing closed storefronts and a shift to online businesses. These shuttered stores – known as dark stores – do not see the same foot traffic as regular storefronts as regular storefronts but still require preventative and reactive maintenance to be able to successfully open when the time is right. That's why MaintenX, a nation-wide provider of commercial maintenance services, is offering facility managers some top tips for continuing to oversee their dark stores and prepare for re-openings in the coming months
"Many facility managers are facing challenges they've never expected or experienced before," said [Mary Ann Velez, National Service Director "This year has certainly created the need for businesses across the country to think creatively about their physical location needs and how to care for the spaces that are being used differently for the time being. I look forward to working with facility managers as we bring more and more buildings back to full capacity."
In fact, there is thought within the retail community that dark stores may linger after the pandemic ends. So, whether companies choose to come back to full in-person retail experiences or to maintain dark store options like curbside pick-up and online ordering and delivery, facility managers must be prepared to serve their buildings in new ways. From landscaping and interior cleaning to preventative checks on electrical, plumbing and HVAC systems, MaintenX offers these best practices for unoccupied storefronts:

Landscaping & Visual Appeal: It is important to remember that even though someone isn't inside a store, that doesn't mean they are not keeping tabs on what is happening outside. Maintaining attractive landscaping, keeping parking lots and sidewalks tidy, and ensuring that the exterior of a building has a fresh coat of paint and neat, clean appearance helps customers realize a business is still investing time and energy into their company.
Plumbing & Water Quality: A facility's plumbing can suffer from a lack of operation. When pipes sit unused for an extended amount of time, it is possible for the stagnant water to collect an excessive amount of heavy metals and pathogens that remain concentrated in the pipes, compromising water quality and potentially endangering people and production. MaintenX recommends running water through plumbing at regular intervals and testing water quality before returning a facility to full-time use.
Comfort & Cleanliness: A reduction in people, movement and airflow needs can increase the presence of dust and dirt. While minimal cleaning may be less important in a dark store, maintaining a regular schedule can help prevent major issues with dirt, grime, and even mold. However, the reduction in foot traffic for dark stores can present an opportunity for facility managers to upgrade or update elements of buildings that may be hard to do when operating normally. Remodeling bathrooms, upgrading common spaces or even completely renovating a showroom floor are all more possible without the hazard and distraction of onsite staff and clientele.
Plan Ahead: While in-person possibilities in 2021 may still be largely uncertain, it is certainly wise to have a plan for re-opening, no matter when it happens. When does the air need to be turned back on? Is there power? Do any systems need to be tuned up after their time offline? Having a tentative timeline and checklist of necessary maintenance activities can help ensure a business is ready to open the doors for customers and staff without stress or troubles, helping the transition back feel seamless for facility managers and those who count on them.
For more information about MaintenX and the variety of maintenance services they provide, or to schedule a consultation for a dark store, visit http://www.maintenx.com.
ABOUT MAINTENX INTERNATIONAL:
MaintenX International is a fully licensed, facilities repair company. As one of the largest national self-performing facility maintenance and repair companies in the U.S., MaintenX has created a wide network of knowledgeable and professional technicians throughout the country. With their team of well-trained technicians, MaintenX self-performs and manages facility maintenance for their clients. In the event there is not a MaintenX technician in an area, the company has established a network of preferred vendor partners throughout the country for continued superior service for their clients. For more than 40 years, MaintenX has been expertly serving multi-location retail stores, restaurant chains and Fortune 500 companies nationwide.