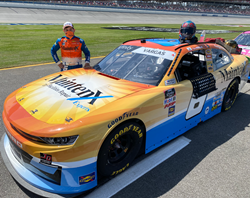 "Our many team members who are NASCAR fans were cheering for him all the way," said Bill Schaphorst, MaintenX VP of Business Development. "We wish him and his team at JD Motorsports with Gary Keller the best in achieving Rookie of the Year!"
TAMPA, Fla. (PRWEB) April 29, 2021
MaintenX international proudly congratulates its sponsored driver, #6 Ryan Vargas, and his team, JD Motorsports with Gary Keller, on their performance in the NASCAR Xfinity Series Ag-Pro 300 at Talladega Superspeedway. Ryan, a Sunoco Rookie of the Year candidate, finished 30th in the rain-shortened race after leading for three laps, the first in his Xfinity Series career.
"Seeing Ryan fly around the turns in bright MaintenX colors was exhilarating," said Bill Schaphorst, MaintenX VP of Business Development. "Our many team members who are NASCAR fans were cheering for him all the way, and we wish him and his team at JD Motorsports with Gary Keller the best in achieving Rookie of the Year!"
The Ag-Pro 300 was won by Jeb Burton, who led when the race was halted due to rain in the 90th of 113 laps. Vargas led laps 74 through 76, and will race in MaintenX colors at three upcoming Xfinity Series events: Nashville on June 19, Daytona on August 27, and Charlotte on October 19.
MaintenX is looking to fill more than 30 open positions with team members as enthusiastic and dedicated as Ryan – prospective team members can visit https://maintenx.com/career-opportunities/ for more information.
ABOUT MAINTENX INTERNATIONAL:
MaintenX International is a fully licensed, facilities repair company. As one of the largest national self-performing facility maintenance and repair companies in the U.S., MaintenX has created a wide network of knowledgeable and professional technicians throughout the country. With their team of well-trained technicians, MaintenX self-performs and manages facility maintenance for their clients. In the event there is not a MaintenX technician in an area, the company has established a network of preferred vendor partners throughout the country for continued superior service for their clients. For more than 40 years, MaintenX has been expertly serving multi-location retail stores, restaurant chains and Fortune 500 companies nationwide.