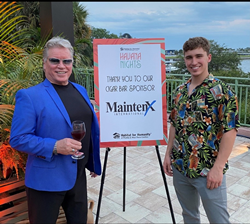 "Our partnership with Habitat for Humanity has endured for years because we share strong values and a commitment to service," said MaintenX VP of Business Development Bill Schaphorst. "Supporting Havana Nights is a great way to deepen that partnership; the dancing is a bonus!"
TAMPA, Fla. (PRWEB) April 27, 2021
MaintenX International was founded in the Tampa Bay area, and is proud to celebrate the region's history alongside its charitable organizations. On Friday, April 23rd, MaintenX sponsored the Cigar Bar at Habitat for Humanity of Pinellas & West Pasco's Havana Nights gala, a night of Cuban music, hors d'ouvres, and cocktails supporting Habitat's mission of bringing people together to build homes, communities, and hope.
"Our partnership with Habitat for Humanity has endured for years because we share strong values and a commitment to service," said MaintenX VP of Business Development Bill Schaphorst. "Supporting Havana Nights is a great way to deepen that partnership; the dancing is a bonus!"
The event, held at the Vinoy Renaissance St. Petersburg, raised more than $430,000 for Habitat, an impressive amount considering the past year. All funds will be used to support affordable homeownership opportunities for deserving families in Pinellas and West Pasco counties.
"This was our first in-person event since the pandemic began, and it was a resounding success," said Mike Sutton, CEO of Habitat. "I'm touched by the support and generosity of our sponsors and attendees, and look forward to further collaborations."
MaintenX founder Pat O'Hara and his son Chas, a MaintenX sales executive, attended the gala with guests. They joined other attendees in rallying behind Steve & Nancy Westphal (owners of St. Pete restaurants including 400 Beach, Parkshore Grille, and The Hangar) who kicked off the night with a $50,000 challenge donation. Pat 'raised the roof' by matching that donation with his own $50,000 gift, which will go toward a home sponsorship for a future homeowner. Chas rounded out the evening as the last person to donate during the $100 challenge, bringing his overall contribution to $11,000.
MaintenX has been servicing commercial facilities in Florida and beyond for more than 40 years. For more information about their services, history, and community involvement, visit http://www.maintenx.com.
ABOUT MAINTENX INTERNATIONAL:
MaintenX International is a fully licensed, facilities repair company. As one of the largest national self-performing facility maintenance and repair companies in the U.S., MaintenX has created a wide network of knowledgeable and professional technicians throughout the country. With their team of well-trained technicians, MaintenX self-performs and manages facility maintenance for their clients. In the event there is not a MaintenX technician in an area, the company has established a network of preferred vendor partners throughout the country for continued superior service for their clients. For more than 40 years, MaintenX has been expertly serving multi-location retail stores, restaurant chains and Fortune 500 companies nationwide.