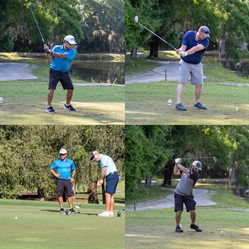 "We're thrilled regarding the contributions of our MaintenX Gives initiative," said MaintenX President Brett Herman. "The TSLCA gives deserving kids the opportunity to excel in music while receiving a well-rounded education, and we're happy to support them – on and off the links."
TAMPA, Fla. (PRWEB) May 13, 2021
MaintenX International, one of the nation's largest providers of facility maintenance for commercial buildings, supported the Tarpon Springs Leadership Conservatory for the Arts (TSLCA) at their third annual "Golf Tournament Fore the Arts". MaintenX President Brett Herman, Project Manager Russ Leffers, HVAC Regional Service Manager Jorge Bravo, and Director of Projects Roberto Pajon won the tournament for the second year in a row.
The event raised $6700, which supports TSLCA's nationally recognized program that provides students with an integrated, seamless curriculum in academics, instrumental music, technology, and leadership skills.
"We're proud of our win, but thrilled regarding the contributions of our MaintenX Gives initiative," said MaintenX President Brett Herman. "The TSLCA gives deserving kids the opportunity to excel in music while receiving a well-rounded education, and we're happy to support them – on and off the links."
MaintenX's years-long relationship with TSLCA began when Fleet & Safety Manager Dan Fish's daughter joined one of the ensembles that TSLCA supports. The funds raised at this year's tournament will, among other things, support the outdoor performance ensemble's trips to Orlando and Tennessee for the Bands of America regional competitions.
Tampa-based MaintenX has been providing quality commercial maintenance services to businesses of all sizes nationwide for more than 40 years. To learn more about their community involvement, visit https://maintenx.com/
ABOUT MAINTENX INTERNATIONAL:
MaintenX International is a fully licensed, facilities repair company. As one of the largest national self-performing facility maintenance and repair companies in the U.S., MaintenX has created a wide network of knowledgeable and professional technicians throughout the country. With their team of well-trained technicians, MaintenX self-performs and manages facility maintenance for their clients. In the event there is not a MaintenX technician in an area, the company has established a network of preferred vendor partners throughout the country for continued superior service for their clients. For more than 40 years, MaintenX has been expertly serving multi-location retail stores, restaurant chains and Fortune 500 companies nationwide.