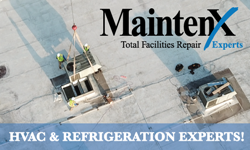 We are thrilled to have Dagner as part of the MaintenX team. The recognition of his accomplishments is well deserved and is a true reflection of his commitment to his craft.
TAMPA, Fla. (PRWEB) July 23, 2020
MaintenX International, one of the nation's largest self-performing providers of commercial facility maintenance, is proud to announce that MaintenX HVAC/R technician Dagner Espinosa was named as the 2020 Refrigeration & Air Conditioning Contractors Association (RACCA) Apprentice of the Year. The honor recognizes Espinosa receiving the class's highest grade point average, as well as his commitment to excellence and superior skill. Espinosa is not the first MaintenX team member to earn this prestigious honor; technician Dustin Watkins received the 2019 RACCA Apprentice of the Year award.
"The quality of our techs in the field is what truly sets us apart," said Bill Schaphorst, MaintenX's VP of Business Development. "We are thrilled to have Dagner as part of the MaintenX team. The recognition of his accomplishments is well deserved and is a true reflection of his commitment to his craft."
Working closely alongside trade and apprenticeship organizations like RACCA is one way MaintenX helps ensure they bring on highly qualified technicians in technical fields such as HVAC/R, plumbing, and roofing. Even though applicants may have completed an apprenticeship, MaintenX candidates go through a careful and thorough hiring process. Potential technicians are brought to MaintenX's headquarters in sunny Tampa, where they receive safety briefings, additional skill evaluations, interviews and assessments.
Training for MaintenX technicians doesn't stop when they are hired. New team members are paired with a training technician who guides the new technician on in-the-field work and provides additional direction on customer service and work order execution. Even after field training, new technicians have access to a senior team member to help with job assessment and training.
MaintenX also knows the recruiting the best technicians means providing the best for their technicians. From uniforms, equipment, phones and vehicles, MaintenX works hard to provide the items their technicians need to succeed. That's in addition to best-in-class health, vision, dental insurance, paid vacations and holidays, and unique onsite perks.
For more information about MaintenX, or to view current job openings, visit http://www.maintenx.com.
ABOUT MAINTENX INTERNATIONAL:
MaintenX International is a fully licensed, facilities repair company. As one of the largest national self-performing facility maintenance and repair companies in the U.S., MaintenX has created a wide network of knowledgeable and professional technicians throughout the country. With their team of well-trained technicians, MaintenX self-performs and manages facility maintenance for their clients. In the event there is not a MaintenX technician in an area, the company has established a network of preferred vendor partners throughout the country for continued superior service for their clients. For more than 40 years, MaintenX has been expertly serving multi-location retail stores, restaurant chains and Fortune 500 companies nationwide.
ABOUT REFRIGERATION AND AIR CONDITIONING CONTRACTORS ASSOCIATION INC.:
The Refrigeration and Air Conditioning Contractors Association Inc., founded in 1949, serves the entire Tampa Bay Area. Contractors, as well as other firms, with a direct interest in the air conditioning industry benefit by joining the Association. RACCA is an affiliated chapter of the state organization, Florida Refrigeration and Air Conditioning Contractors Association (FRACCA). RACCA takes an aggressive role in promoting industry standards and professionalism. RACCA provides Continuing Education (CEU) courses for contractors and Apprenticeship Programs for HVAC/R Technicians.