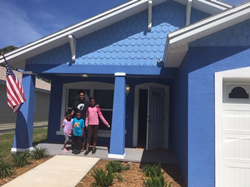 MaintenX is thrilled that the Ross family is able to have a safe, beautiful house to call home during such a stressful, unpredictable time.
TAMPA, Fla. (PRWEB) May 21, 2020
MaintenX International, one of the nation's largest proactive and reactive facility maintenance providers, was able to welcome the Ross Family in Pinellas County, Fla., into their new Habitat for Humanity home. While the journey to home dedication was anything but typical, thanks to the COVID-19 pandemic, MaintenX believes the challenges made the completion of this home build even sweeter.
Due to social distancing requirements from COVID-19, the usual Habitat for Humanity volunteer schedule came to a halt in March. However, MaintenX was still able to lend their expertise in Roofing, Plumbing and HVAC, as an essential business and the subcontractor on the project. MaintenX team members Ismael Rios, Derrick Barwick, and Russell Leffers led the project on the MaintenX side from start to finish, helping guide their team members to a successful build completion. This is the second Habitat for Humanity home that MaintenX has sponsored.
"MaintenX is thrilled that the Ross family is able to have a safe, beautiful house to call home during such a stressful, unpredictable time," said Bill Schaphorst, MaintenX's VP of Business Development. "It also brought a smile to our team's face to see that the house was painted bright blue – almost exactly the same shade as MaintenX blue!"
MaintenX knows that attention to detail is a critical component of their success and pitched in to make the Ross family's move-in day even more special, since hosting a typical home dedication ceremony was not possible.
More than 20 members of the MaintenX team, from across the country and at all levels of the organization, sent in clips to create a video to welcome the Ross family to their new home and send them positive wishes. A beautiful plant arrangement, a gift from the MaintenX team, was ready to greet the Rosses on their front porch. MaintenX also gifted the family a $500 Target Gift Card and a gift certificate for the full cost and installation of a garage door opener system.
"Everyone made a really great effort to show Habitat and the Ross family how much we care and wanted to be involved on their special day of becoming home-owners," said Schaphorst. "It's moments like these that remind me why I am so proud to be a part of team MaintenX."
To learn more about MaintenX and their commitment to serving their community and customers, visit http://www.MaintenX.com.
ABOUT MAINTENX INTERNATIONAL:
MaintenX International is a fully licensed, facilities repair company. As one of the largest national self-performing facility maintenance and repair companies in the U.S., MaintenX has created a wide network of knowledgeable and professional technicians throughout the country. With their team of well-trained technicians, MaintenX self-performs and manages facility maintenance for their clients. In the event there is not a MaintenX technician in an area, the company has established a network of preferred vendor partners throughout the country for continued superior service for their clients. For more than 40 years, MaintenX has been expertly serving multi-location retail stores, restaurant chains and Fortune 500 companies nationwide.