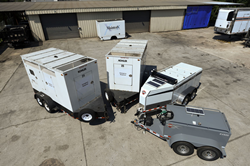 Planning ahead and ensuring that all facility systems are 100% operational can be the difference between a minor inconvenience and a major issue.
TAMPA, Fla. (PRWEB) October 17, 2019
2019 marks the 30th year that the United Nations has been promoting disaster reduction and risk awareness. MaintenX International, one of the United States' largest self-performing facility maintenance service providers, understands the importance of planning for and mitigating disaster risk.
"Preventative maintenance is one of the most critical components of disaster preparation," said Bill Schaphorst, MaintenX's VP of Business Development. "Planning ahead and ensuring that all facility systems are 100% operational can be the difference between a minor inconvenience and a major issue."
Here are three important ways any organization can reduce their risk:

Consider your Risks: Each business is different. Do you live in an area that is prone to hurricanes or tornadoes or fires? Will your organization have time to prepare for an extreme event or will your reaction need to happen at a moment's notice? Each disaster comes with its own unique challenges. However, wind, water and fire risks can be reduced through different precautions like sandbags, window boarding, fire containment systems, and plumbing accommodations. A skilled technician from MaintenX can help facility managers assess their physical vulnerabilities and strongpoints and create a customized maintenance plan accordingly.
Plan for the Worst: Creating an emergency plan for your organizations that includes staffing plans, power contingencies, and contacts for important services – such as maintenance and repair – will help your organization get back to business-as- soon as possible. MaintenX has invested over $1 million in disaster recovery machinery like refrigerator trucks, fuel trucks and commercial generators to ensure they can serve clients as effectively as possible.
Harden your Infrastructure: Old electrical wiring, broken asphalt parking lots, tattered roof shingles and liners. Each of these items may not pose a serious issue on its own, but when you add driving rains, hurricane winds or lapping water, bigger issues can result. For example, a roof with loose shingles can create flying debris and entry points for destructive water damage. This unnecessary and costly damage could have been reduced through preventative maintenance. With more than 80 years of combined experience, MaintenX's Roofing Division can help with issues large and small.
MaintenX has been offering best-in-class disaster response and preparation services for more than 40 years. To learn more about MaintenX and variety of services they provide, visit http://www.maintenx.com.
ABOUT MAINTENX INTERNATIONAL:
MaintenX International is a fully licensed, facilities repair company. As one of the largest national self-performing facility maintenance and repair companies in the U.S., MaintenX has created a wide network of knowledgeable and professional technicians throughout the country. With their team of well-trained technicians, MaintenX self-performs and manages facility maintenance for their clients. In the event there is not a MaintenX technician in an area, the company has established a network of preferred vendor partners throughout the country for continued superior service for their clients. For more than 40 years, MaintenX has been expertly serving multi-location retail stores, restaurant chains and Fortune 500 companies nationwide.