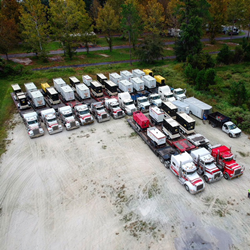 MaintenX knows being prepared for a disaster is crucial to surviving it and quickly returning to normal function afterwards.
TAMPA, Fla. (PRWEB) September 11, 2020
MaintenX technicians have provided commercial facilities with full-spectrum disaster services for more than 40 years. That experience has provided many insights, but one stands out: being prepared for a disaster is crucial to surviving it and quickly returning to normal function afterwards. September is National Preparedness Month, as the Government adds its voice to encourage readiness and resiliency.
2020 has included an unfortunate number of natural disasters, most prominently severe storms. The Atlantic Hurricane Season is the first in which nine tropical storms formed before August, 13 formed before September, and seven made landfall before August. These storms have caused billions of dollars in damage and taken more than a hundred lives, further emphasizing the importance National Preparedness Month's theme: "Disasters Don't Wait. Make Your Plan Today."
The Department of Homeland Security, which administers National Preparedness Month, has divided the month into four weeklong themes:Make a Plan, Build a Kit, Prepare for Disasters, and Teach Youth About Preparedness. Although these tips are aimed at the domestic environment, they apply equally to commercial spaces. If facility managers take each to heart, they should talk to colleagues about how they will communicate before, during and after a disaster. They should also have a disaster kit stocked on the facility's premises, familiarize themselves with likely disaster events and how they can harden their facility and discuss preparation activities with the entire team.
"Having operated in high-risk areas for more than four decades, MaintenX is all too familiar with the destructive potential of natural disasters," said MaintenX VP of Business Development Bill Schaphorst. "We consistently find that the best-prepared facilities weather disasters in the least disruptive way, and we wholeheartedly support the recommendations of DHS's National Preparedness Month."
No matter the disasters they face, well-maintained facilities are more resilient. For more information about MaintenX and their preventative maintenance and disaster preparedness services, please visit https://maintenx.com/.
ABOUT MAINTENX INTERNATIONAL:
MaintenX International is a fully licensed, facilities repair company. As one of the largest national self-performing facility maintenance and repair companies in the U.S., MaintenX has created a wide network of knowledgeable and professional technicians throughout the country. With their team of well-trained technicians, MaintenX self-performs and manages facility maintenance for their clients. In the event there is not a MaintenX technician in an area, the company has established a network of preferred vendor partners throughout the country for continued superior service for their clients.
For more than 40 years, MaintenX has been expertly serving multi-location retail stores, restaurant chains and Fortune 500 companies nationwide. Learn more at http://www.maintenx.com.