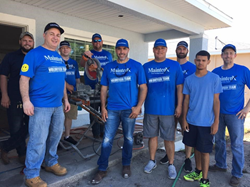 MaintenX feels very privileged to be involved with a project that provides so much impact to a young family and their lives.
TAMPA, Fla. (PRWEB) May 22, 2019
MaintenX International, a Tampa-based facility maintenance and repair company, is nearing completion on the Habitat for Humanity home they sponsored in Largo, Fla. Since beginning the build project six weeks ago, MaintenX employees have volunteered more than 1,000 hours on the project.
MaintenX is preparing the home alongside the Garcia-Sparling Family. This is an exciting opportunity for the Garcia-Sparlings, who have already given more than 300 volunteer hours as they waited to be assigned a Habitat home by the Habitat for Humanity Pinellas and West Pasco chapter.
"MaintenX feels very privileged to be involved with a project that provides so much impact to a young family and their lives," said Bill Schaphorst, MaintenX's VP of Development. "Having a house to call your own, that is safe, secure and a place you can call home, is something that can easily be taken for granted but, for the Garcia-Sparlings, it is a dream that we helped make happen."
The Hamid Garcia and Carol Sparling have four boys between the ages of six and 18. A loving and active family, they are excited about the freedom and consistency their new home will provide. They currently share a 2-bedroom, 1-bath house and know their Habitat for Humanity home is a unique opportunity for the family to enjoy their own space.
With the home dedication scheduled for June 13th at 9 a.m., MaintenX volunteers are hard at work completing flooring, interior trim work and putting finishing touches on the project. MaintenX knows the importance of providing a safe, stable home to families, and has brought team members in from as far California to help volunteer.
Since their beginnings more than 40 years ago, MaintenX has placed an emphasis on giving back to the local community. To learn more about MaintenX and their commitment to superior service for communities and companies, visit http://www.maintenx.com.
ABOUT MAINTENX INTERNATIONAL:
MaintenX International is a fully licensed, facilities repair company. As one of the largest national self-performing facility maintenance and repair companies in the U.S., MaintenX has created a wide network of knowledgeable and professional technicians throughout the country. With their team of well-trained technicians, MaintenX self-performs and manages facility maintenance for their clients. In the event there is not a MaintenX technician in an area, the company has established a network of preferred vendor partners throughout the country for continued superior service for their clients. For more than 40 years, MaintenX has been expertly serving multi-location retail stores, restaurant chains and Fortune 500 companies nationwide.