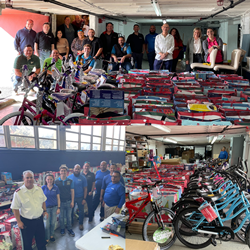 "Every child deserves to share in the magic of the holidays, and we're proud to be able to help spread the joy," said MaintenX VP of Development Bill Schaphorst. "Our team members truly embody the commitment to community that defines this organization."
TAMPA, Fla. (PRWEB) December 07, 2021
As the holiday season begins, it's important to remember those less fortunate in our community. MaintenX International has prioritized community service for decades, and understands how acts of kindness are truly important to the community. A favorite quote by Martin Luther King, "Life's most persistent and urgent question is, what are you doing for others?", reflects the spirt of giving at MaintenX. In that spirit, MaintenX is partnering with the Salvation Army's Angel Tree initiative for the fourth consecutive year to sponsor 125 children in the Tampa Bay Area.
Angel Tree provides Christmas gifts for hundreds of thousands of children around the country every year. Families make wish lists for their children – their 'Angels' – after which volunteers shop for those specified presents. This year, MaintenX team members generously provided more than 40 bikes/scooters and hundreds of other presents for their 125 Angels. Top gifts this year included, bikes, scooters, tablets, fidget toys, craft kits and baby supplies and the MaintenX team was happy to provide it all.
"Every child deserves to share in the magic of the holidays, and we're proud to be able to help spread the joy," said MaintenX VP of Development Bill Schaphorst. "Our team members truly embody the commitment to community that defines this organization."
The gifts were delivered by MaintenX team members on December 6th from MaintenX headquarters in Tampa to the Salvation Army in St. Petersburg. In lieu of a sleigh, MaintenX trucks filled with gift bags, truck beds loaded with bicycles, and trailers stacked high with diapers, toys and clothes for the Angels travelled across Tampa Bay carrying future holiday memories.
Learn more about MaintenX's community initiatives by visiting http://www.maintenx.com or calling 855-751-0075.
ABOUT MAINTENX INTERNATIONAL:
MaintenX International is a fully licensed, facilities repair company. As one of the largest national self-performing facility maintenance and repair companies in the U.S., MaintenX has created a wide network of knowledgeable and professional technicians throughout the country. With their team of well-trained technicians, MaintenX self-performs and manages facility maintenance for their clients. In the event there is not a MaintenX technician in an area, the company has established a network of preferred vendor partners throughout the country for continued superior service for their clients. For more than 40 years, MaintenX has been expertly serving multi-location retail stores, restaurant chains and Fortune 500 companies nationwide.
###