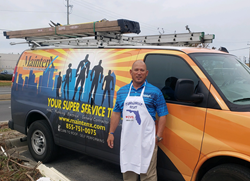 MaintenX wants our customers to know we'll be right there with them, through good times and bad
(PRWEB) December 20, 2018
MaintenX International is celebrating during this season of giving by donating $1,000 to the City of Lynn Haven and City of Callaway to support Hurricane Michael relief efforts. Two MaintenX technicians were in the Panhandle to help distribute supplies and some holiday cheer.
"So many people in the Panhandle lost everything," said Bill Schaphorst, MaintenX's VP of Business Development. "Particularly at a time of year when so many of us are reflecting on the joys and blessings in our life, it's important to remember our neighbors who are still working to recover a sense of normalcy."
Working with local relief funds and groups, MaintenX helped distribute donations and over 500 free lunches to locals as their communities continue to recover.
"We want our customers to know we'll be right there with them, through good times and bad," Schaphorst said.
Tampa-based MaintenX is familiar with the devastation that can come after a major storm like a hurricane. That danger is intensified when a storm is as strong as Hurricane Michael; Michael was the third-most intense Atlantic hurricane to ever hit the contiguous United States, making landfall in Florida's Panhandle region.
Each day, MaintenX provides superior maintenance for businesses from coast to coast, including emergency maintenance services like power generation and emergency refrigeration. MaintenX is also able to help facilities prepare for a major storm by sandbagging, boarding windows and performing preventative roof inspections and repairs.
For more than 35 years, MaintenX has been supporting their customers and communities in Florida and beyond. To learn more about MaintenX and the services they provide, visit http://www.maintenx.com.
ABOUT MAINTENX INTERNATIONAL:
MaintenX International is a fully licensed, facilities repair company. As one of the largest national self-performing facility maintenance and repair companies in the U.S., MaintenX has created a wide network of knowledgeable and professional technicians throughout the country. With their team of well-trained technicians, MaintenX self-performs and manages facility maintenance for their clients. In the event there is not a MaintenX technician in an area, the company has established a network of preferred vendor partners throughout the country for continued superior service for their clients. For more than 35 years, MaintenX has been expertly serving multi-location retail stores, restaurant chains and Fortune 500 companies nationwide.