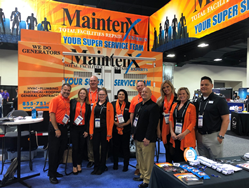 MaintenX believes that Connexion is a valuable series that will provide exclusive benefits to attendees, and we are proud to support the inaugural year.
TAMPA, Fla. (PRWEB) August 19, 2019
MaintenX is pleased to announce their Platinum sponsorship of Connex's Connexion event this October in Southern California. Connex, formerly PRSM, has reorganized their midyear show into three intimate and interactive events across the U.S. Beginning in Long Beach, Connexion Events will also be held in Columbus and New York City throughout the month of October.
MaintenX team members will be present at all three shows to help attendees learn more about the power of personalized proactive maintenance executed by self-performing technicians. Attendees can also expect to hear insider industry updates, gain insights into facility management leadership, and have ample opportunities for networking with industry peers.
"MaintenX believes that Connexion is a valuable series that will provide exclusive benefits to attendees, and we are proud to support the inaugural year," said Bill Schaphorst, MaintenX's VP of Business Development. "We're ready to meet facility managers and discuss industry issues in a more personal setting before we head to the Connex2020 National Conference in April 2020."
This year's Connexion events will focus on a variety of topics critical to facility managers, including economic outlooks for the industry, the concept of leadership versus management, economic considerations for Canada and the United States, and coaching for managers. Opportunities for networking will also be provided throughout the sessions.
For interested facility managers, early bird registration is available until August 30 by visiting https://www.connexion.connexfm.com/register.
Connex is an industry leader in retail and multi-site facilities management. With a focus on providing best practice, education, forums and partnerships to facilities management professionals, more than 950 member companies can achieve greater success and competitive advantage through Connex's programs and resources.
Just as Connex is a trusted name in programming and partnerships, MaintenX is a trusted name in self-performing facilities repair. For more than 40 years, MaintenX International has been creating personalized preventative maintenance schedules for facilities of all sizes with a focus on customer satisfaction and safety. They also offer a wide range of reactive and emergency maintenance services.
For more information about MaintenX, visit http://www.maintenx.com.
About MaintenX International:
MaintenX International is a fully licensed, facilities repair company. As one of the largest national self-performing facility maintenance and repair companies in the U.S., MaintenX has created a wide network of knowledgeable and professional technicians throughout the country. With their team of well-trained technicians, MaintenX self-performs and manages facility maintenance for their clients. In the event there is not a MaintenX technician in an area, the company has established a network of preferred vendor partners throughout the country for continued superior service for their clients. For more than 40 years, MaintenX has been expertly serving multi-location retail stores, restaurant chains and Fortune 500 companies nationwide.