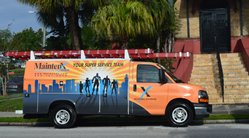 Water intrusion is a costly issue that can create lasting structural damage and health risks, in addition to work disruption and financial losses.
TAMPA, Fla. (PRWEB) June 29, 2020
The soothing sound of rain, the familiar smell of wet pavement, happy plants soaking up water. Summer storms can be pleasant things – however, for facilities with roof damage or an active leak, rainfall can create expensive damage and require costly downtime. That's why the Roofing and Waterproofing Division at Florida-based MaintenX International is offering advice to help facility managers ensure that rain stays where it's intended to – outside.
"Water intrusion is a serious problem that can create lasting structural damage and health risks, in addition to work disruption and financial losses," said Bill Schaphorst, MaintenX's VP of Business Development.
MaintenX has always helped customers with water intrusion and created a dedicated Waterproofing Division in early 2019. MaintenX's crews of self-performing technicians specialize in preventative and reconstructive waterproofing work to brick or masonry block walls, stucco, and EIFS wall systems throughout the Florida market.
There are some telltale signs that a building is experiencing a leak, whether from a window, door, or the roof. Here are some top tips for facility managers working to keep their buildings safe from water damage from Erhick Bodenbender, MaintenX's Senior Manager, Waterproofing Division:

Know the Risk: One of the biggest water-based hurdles in Florida is mold in the walls. Once water gets into the walls from a storm or roof leak, it creates a perfect, hidden environment for mold to start growing. Facility managers should look for visual changes like discolored spots on walls or ceilings and check the perimeter of their building looking for spaces around doors and windows that may let water inside.
Use Your Nose: Facility managers can use all their senses in the fight against water damage, since water intrusion isn't always visible. "One telltale sign that a building is experiencing a leak is the smell. If you walk into a building and smell a musty odor, that is a great indication that your building is leaking," said Bodenbender.
Ensure A Solid Seal: Bodenbender also noted that cracks in the walls, with white or black effervescence leaching out of the cracks, is a good sign a building is no longer watertight. Proper sealant is extremely important to the building's exterior as sealant failure along the perimeter of windows, doors, or louvers is another entry point for moisture.
Plan Ahead: Preventative maintenance is the best way to help prevent small issues from becoming big problems. Preventative annual roof inspections are essential to finding and addressing water intrusion points before they can create costly and disruptive damage to a facility. Waterproofing repairs on a building's envelope can also reduce the risk of water damage to facilities.
To learn more about MaintenX, or to schedule a roof or waterproofing inspection with one of their knowledgeable technicians, visit http://www.maintenx.com.
ABOUT MAINTENX INTERNATIONAL:
MaintenX International is a fully licensed, facilities repair company. As one of the largest national self-performing facility maintenance and repair companies in the U.S., MaintenX has created a wide network of knowledgeable and professional technicians throughout the country. With their team of well-trained technicians, MaintenX self-performs and manages facility maintenance for their clients. In the event there is not a MaintenX technician in an area, the company has established a network of preferred vendor partners throughout the country for continued superior service for their clients. For more than 40 years, MaintenX has been expertly serving multi-location retail stores, restaurant chains and Fortune 500 companies nationwide.