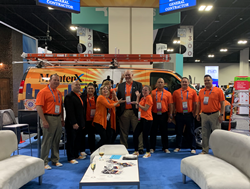 I love being able to share how MaintenX adds value to facility managers and helps take their careers to the next level.
TAMPA, Fla. (PRWEB) March 13, 2020
MaintenX International, a Tampa-based provider of facility maintenance services, enjoyed three great days of sharing best practices and industry trends at the 2020 Restaurant Facilities Management Association (RFMA) annual conference in Denver. MaintenX team members connected with clients, prospective clients and peers from across the country and had the honor of celebrating team member Bill Schaphorst, MaintenX's VP of Business Development, who was awarded RFMA 2020 "Vendor of the Year."
"This is the most significant career milestone I have achieved," Schaphorst. "I am humbled to be recognized by people I admire for doing a job I love."
The Vendor of the Year is awarded by the Board of Directors to recognize one hard-working vendor-member for their service and dedication to RFMA and the restaurant facilities industry. Schaphorst has been a member of RFMA for nearly two decades, has attended every annual conference since 2012, and has served on the RFMA Resource Committee, as an article contributor, as a Peer-to-Peer call moderator and more.
"It was a thrill to be honored in front of my industry peers, but I think it's just as thrilling to get to talk to new and old customers at our booth. I love being able to share how MaintenX adds value to facility managers and helps take their careers to the next level," said Schaporst.
Conference attendees donned MaintenX-sponsored conference bags and lanyards while they enjoyed MaintenX's new booth design and got an up-close look at the company's onsite van. Attendees also got a look at #TeamMaintenX on the racetrack. Five MaintenX employees braved the early morning cold for some friendly competition in the RFMA 5K race, which raised money for RFMA Gives 2020. This year's project recipient was Stout Street Foundation, which helps adults with rehabilitation and recovering from addiction. Cassi Pearson, MaintenX's West Coast Regional Service Manager, took home the gold in the women's 5K division while Amy Abril, MaintenX's Marketing and Research Manager, finished in third place.
MaintenX team members enjoyed time at the conference networking, sharing information at their booth, racing the 5K, and soaking up industry updates. They also enjoyed a cocktail reception with their clients, which featured a variety of culinary delights including a slider bar and mac-and-cheese bar.
Restaurant facility managers trust MaintenX for their more than 40 years of industry maintenance experience and for their nationwide network of self-performing maintenance providers. MaintenX works hard to provide world-class service to all clients, no matter their size or location.
To learn more about MaintenX and the services they provide, visit http://www.maintenx.com.
ABOUT MAINTENX INTERNATIONAL:
MaintenX International is a fully licensed, facilities repair company. As one of the largest national self-performing facility maintenance and repair companies in the U.S., MaintenX has created a wide network of knowledgeable and professional technicians throughout the country. With their team of well-trained technicians, MaintenX self-performs and manages facility maintenance for their clients. In the event there is not a MaintenX technician in an area, the company has established a network of preferred vendor partners throughout the country for continued superior service for their clients. For more than 40 years, MaintenX has been expertly serving multi-location retail stores, restaurant chains and Fortune 500 companies nationwide. matter if the need is roofing or plumbing or electrical services. Rather than engage multiple companies to fulfill a variety maintenance needs, MaintenX provides unique peace-of-mind with their ability to manage a suite of services from curb to roof.