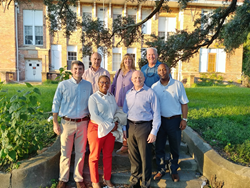 "It's exciting to be a part of an organization that is combining primary care, behavioral health, peer support and community engagement in unique ways. Together, we can help Veterans get back to the productive lives they have earned—in southwest Alabama and other parts of the country as well."
MOBILE, Ala. (PRWEB) December 19, 2018
Major General Les Carroll (USAR, Ret), Colonel Jerry Steele (USMCR, Ret), Henry Esham, Tina Stewart and Amanda Hayes have joined the Board of Directors at Veterans Recovery Resources. Their initial terms will run through January 2020.
Les Carroll, President of the Board: Les retired in 2017 after 39 years military service. He served as commanding general of the 377th Theater Sustainment Command (TSC) in New Orleans, LA, the largest command in the U.S. Army Reserve, with more than 36,000 Soldiers, over 900 Civilians and 442 units in 39 states. Prior to this assignment, he served as the Chief of Staff, U.S. Army Forces Command, Fort Bragg, NC from July 2012 until June 2014. Les was commissioned a Second Lieutenant of Infantry from the University of Georgia Reserve Officers Training Corps (ROTC) in 1978 and began his military career at Fort Benning, GA. He received his bachelor's from Northwestern State University in LA. Les and his wife live in Georgia, within easy access to their four children and grandchildren.
Jerry Steele, Vice President of the Board: Jerry served 27 years in the military and retired as a Colonel in the United Stated Marine Corps Reserve. His collateral duties included logistics officer, fiscal budget officer, safety officer, drug and alcohol abuse control officer and legal officer. He amassed over 2,000 flight hours in Marine jets. Jerry also brings over 25 years leadership experience in medical practice management and non-profit. He is very active in the community, currently serving as the Alabama State Council of MOAA Secretary. He is a past Commandant for the Marine Corps League, past President of the Medical Group Manager's Association and Program Manager for Toys for Tots. He and his wife retired in Mobile, AL near their children and grandchildren.
Tina Stewart, Treasurer of the Board: Tina joins the board as Treasurer after volunteering her services at Veterans Recovery Resources for over a year. She is a CPA and manager with Carr, Riggs & Ingram, LLC and worked at Smith, Dukes & Buckalew prior to that. Tina specializes in government and non-profit public accounting. Tina received her B.S. in Accounting and B.S. in Mathematics from the University of New Orleans. She is a member of both the Alabama and Louisiana state societies for CPAs. As a military spouse, Tina is passionate about supporting military families and understands the challenges they face. Her husband, Jimmy, serves in the U.S. Coast Guard and served in the U.S. Army prior to that. They live in Spanish Fort, AL with their four children.
Amanda Hayes, Secretary of the Board: Amanda has 30 years of marketing strategy, communications and program management experience in the consulting services, technology start-up and non-profit industries. She spent 18 years working and contracting with Accenture in London, Toronto and the U.S. and is currently a co-owner of MFH Consulting in Atlanta, Georgia. Amanda holds a Master of International Management (MIM) from the Thunderbird School of Global Management. She is passionate about raising awareness of the issues facing our Veteran community across the nation, all of whom have so selflessly served our country. She joins the board after volunteering her services full-time for nearly three years. She and her husband, Marc, live in Atlanta, Georgia and have three children and several grandchildren.
Henry Esham, Board Member: Henry earned his Doctor of Dental Medicine from the University of Alabama at Birmingham School of Dentistry in 2013. He served over 22 years in the military, including nine years as a Naval Aviator (commissioned in 2001) and five as a military police officer in the Alabama National Guard. He completed several deployments, flying missions in support of Operation Iraqi Freedom, Operation Enduring Freedom and the Global War on Terrorism. Henry continues to serve in the U.S. Navy Reserve and is committed to serving his country and community and ensuring Veterans receive the best care available. He and his wife live in Fairhope, AL with their children.
Founding Board Member Jim Ware, stepped down in July 2018 after three years of service.
Veterans Recovery Resources Founder and Executive Director John Kilpatrick thanked those who have served on the board and welcomed the new members. "I am personally grateful to Jim Ware for all he did to help get our organization off the ground, as well as to COL Mike Plattenburg, who continues his fourth year of dedicated service on our board," said Kilpatrick. "And, I am incredibly honored to welcome Les, Jerry, Tina, Amanda and Henry. Serving on the board of a unique start-up organization like Veterans Recovery Resources requires dedication, hard work, and a commitment to improving our communities. We are grateful for their time and talents to strengthen our organization and make a positive impact on the lives of the Veterans we are privileged to serve."
Newly-elected Veterans Recovery Resources Board President Les Carroll added, "As our organization and board continues to grow and evolve, I am personally honored to lead the next chapter in achieving our mission of removing the barriers to care for Veterans and their families suffering from substance abuse, post-traumatic stress and other mental wellness issues. It's exciting to be a part of an organization that is combining primary care, behavioral health, peer support and community engagement in unique ways. Together, we can help Veterans get back to the productive lives they have earned—not only in southwest Alabama, but in other parts of the country as well."
Veterans Recovery Resources opened its first outpatient clinic in November 2018 at 1156 Springhill Avenue in Mobile, Alabama and is in phase two of its capital campaign to open the first Veteran-specific residential treatment program in southwest Alabama. In an effort to provide care to the broadest range of persons, Veterans Recovery Resources defines Veterans as any person who served in the U.S. military for at least one day (whether past or present). The clinical team has special expertise in addressing basic medical concerns along with chronic pain, substance abuse/dependence, and other common conditions among persons who served in the U.S. military (for example, processing trauma, moral injury, depression, anxiety)—as well as those faced by military families, caregivers and survivors.
About Veterans Recovery Resources
Veterans Recovery Resources is a non-profit, community-based substance abuse and mental wellness program developed for Veterans, by Veterans—regardless of their ability to pay. "Vets Recover" is designed to deliver the highest-quality, evidence-based, compassionate and affordable services to all Veterans who need help. Treatment is provided by professionals with the cultural competence to specifically address Veterans' mental wellness issues. Our goal is to create a vibrant network of Veterans—and their families—who support each other over a lifetime and work together to strengthen and contribute to our local communities and economy. To learn more about Veterans Recovery Resources, or to lend your support to its vital mission, please visit http://www.vetsrecover.org or call 866-648-7334.