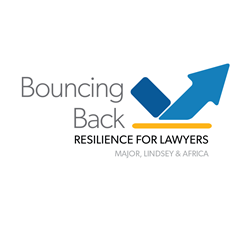 "2020 was a difficult year for everyone, especially newly minted attorneys. Many of them were too young to be directly impacted by The Great Recession. This podcast promotes stories of resilience for junior attorneys, so they too can bounce back from setbacks and ultimately thrive in their careers."
HANOVER, Md. (PRWEB) February 02, 2021
Major, Lindsey & Africa (MLA), the world's leading legal search firm, has launched a new podcast: Bouncing Back: Resilience for Lawyers. Each month, host Rebecca Glatzer chats with lawyers and other professionals about how they have overcome challenges and are now thriving in their careers.
The first episode features Manita Rawat, Silicon Valley office managing partner for Duane Morris LLP, as she talks about getting laid off during The Great Recession and learning to build a book of business during the aftermath of that experience, leading to a successful legal career.
"2020 was a difficult year for everyone, especially newly minted attorneys.  Many of them were too young to be directly impacted by The Great Recession," said Rebecca Glatzer. "This podcast promotes stories of resilience for junior attorneys, so they too can bounce back from setbacks and ultimately thrive in their careers."
To listen to the podcast, visit MLAGlobal.com, SoundCloud, Google Podcasts, iTunes, Amazon Music, Spotify, Stitcher, and TuneIn. If you would like to provide feedback, suggest topics or be considered as a guest, email Rebecca Glatzer at rglatzer@mlaglobal.com.
About Major, Lindsey & Africa
Major, Lindsey & Africa is the world's leading legal search firm. The firm, founded in 1982, offers a range of specialized legal recruiting and advisory services to meet the ever-changing needs of law firms and legal departments and to support the career aspirations of talented lawyers and legal and compliance professionals. With more than 25 offices and 200-plus search consultants around the world, Major, Lindsey & Africa uses its market knowledge and experience to partner with organizations to fulfill their legal talent needs and provide solutions to increase team efficiency and effectiveness. Major, Lindsey & Africa is an Allegis Group company, the global leader in talent solutions.
To learn more about Major, Lindsey & Africa, visit http://www.mlaglobal.com