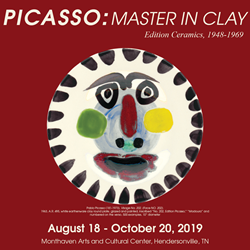 I think visitors to Monthaven will be both surprised and charmed when they see Picasso's outstanding ceramics.
HENDERSONVILLE, Tenn. (PRWEB) June 25, 2019
The whimsical works of one of history's most iconic artists will come this summer to the Monthaven Arts and Cultural Center (MACC) in Hendersonville, Tenn. The exhibition, entitled Picasso: Master in Clay, will be on view from Aug. 18 through Oct. 20 and will feature more than 60 of the legendary Pablo Picasso's highly stylized edition ceramics. On loan from the Park West Museum, this substantial collection is coming to Tennessee for the first time.
"I think visitors to Monthaven will be both surprised and charmed when they see Picasso's outstanding ceramics," says Cheryl Strichik, executive director of the Monthaven Arts and Cultural Center. "While best known for his forays into Cubism and Primitivism, with their often dark and somber themes, Picasso's ceramic works highlight the carefree aspect of his creative personality, the side that was less serious and more joyful. We are delighted to showcase this significant collection."
Picasso was 64-years-old and an internationally known master painter when he decided to make a serious study of ceramics. He was visiting an annual pottery exhibition in the South of France in 1946 when he happened upon a display from a workshop called Madoura, owned by Georges and Suzanne Ramié. The couple welcomed the renowned artist into their studio in Vallauris, giving him access to all of the tools and resources he would need to create his own ceramics. That initial invitation evolved into a 25-year partnership between the Spanish master and Madoura Pottery, a collaborative venture that ultimately resulted in Picasso creating designs for an incredible array of limited editions, which included plates, bowls, pitchers, vases and other functional clay objects.
In conceiving the designs for these pieces, Picasso allowed his imagination free rein. His embellishments were almost always playful, depicting Greek mythological figures and bullfighting scenes, along with the faces of some of his friends and acquaintances. Often, pitchers were transformed into watchful owls while wine jugs took on the female form.
Picasso seemed to revel in the ceramics process because it offered a relaxing outlet for his fertile imagination while enabling him to produce designs for the limited editions that could be purchased through the Madoura Pottery. The availability of the editions in runs as small as 25 pieces and as large as 500, provided ordinary art lovers with the opportunity to acquire a Picasso, which was important to him as an artist.
Park West Museum founder Albert Scaglione, an avid collector of Picasso's ceramics, has assembled quite a comprehensive collection of the edition ceramics over the years. Picasso: Master in Clay is sponsored by the Park West Foundation, Diane Pandolfi, Director.
Monthaven Arts and Cultural Center, which is conveniently located off Gallatin Pike just three miles east of Rivergate Mall, serves as a haven for the arts, hosting major art exhibitions throughout the year. It also offers classes and summer camps about art and film for children and adults. Monthaven Mansion is available to rent for weddings, receptions, showers, corporate team-building classes and private parties. For more information, visit http://www.monthavenartsandculturalcenter.com or call (615) 822-0789.