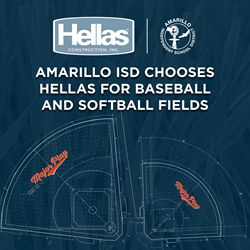 AMARILLO, Texas (PRWEB) November 04, 2020
Baseball and softball synthetic turf fields are becoming common across the United States and especially in Texas. On September 21st the Amarillo ISD Board of Trustees agreed that it was time to update and upgrade their baseball and softball fields at all four high schools.
"We have been looking at doing the turf for several years. We lose so many workout days in the early part of the season with our fields not being able to handle the moisture whether that be snow or rain. It will be a huge benefit for our teams to be able to get on the fields much quicker as well as not losing days during the season." said Brad Thiessen, Director of Athletics of Amarillo ISD.
Amarillo, Caprock, Palo Duro and Tascosa High schools will install Major Play® Matrix Helix turf with Realfill® infill for their baseball infields and softball fields. Major Play, a 2019 Best of Show award winner by Collegiate Baseball, precisely emulates natural grass and clay without the maintenance cost associated with both. Each area of the field is tailor-made for pitching, hitting, sliding, ball bounces and speed consistent with the best natural grass ballparks.
Hellas Construction, headquartered in Austin, TX, has been accumulating acknowledgments this Fall as they were recently included in the famed Inc. 5000 list of America's Fastest Growing Companies and Engineering News-Record (ENR) Top 600 Specialty Contractors List. Hellas is the nation's largest sports surfacing contractor and able to staff more than 125 projects at a given time using its own employees and equipment. The vertically integrated Hellas Construction broke ground on October 6th only 14 days after board approval
"I am really excited to get this great project under way and want to thank the Board of Trustees of Amarillo ISD for trusting Hellas once again. We can't wait to complete this project prior to the beginning of the 2021 baseball and softball season and that's why I believe they selected Hellas. They know we will meet that deadline." said David Fisher, Business Development Manager of Hellas Construction.
Hellas Construction has recently completed work for Amarillo ISD in 2018 and 2019 when they resurfaced the tracks at all five tracks in the district.
"We have had good success working with Hellas in the past with our tracks. We have 5 tracks in the school district and Hellas has done all of them over the years. This relationship made this a much easier decision in putting in these fields. Hellas also promised us the ability to install these 8 fields in a very tight timeline. We approved these in September and should have them ready by the first of February," said Brad Thiessen.
Hellas Construction, Inc. headquartered in Austin, TX, is the largest vertically integrated sports construction contractor in the United States, specializing in the general construction of sports facilities and sports surfaces. Hellas champions innovative artificial turf manufacturing, base construction, field, track and tennis planning, along with installation and maintenance. Hellas products are protected by one or more of the following patents: 6,800,339; 7,838,096; 7,249,913; 7,364,634. hellasconstruction.com
Amarillo Independent School District's focus is to ensure superior academic achievement by all students. Superior academic achievement is ensured through evaluation, engagement, curriculum, and assessment. amaisd.org