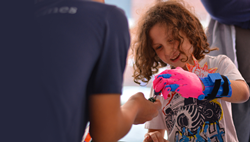 The CreatedBy Festival is our take on a family-friendly show-and-tell: an opportunity to be inspired, to learn, and to take your breath away. Stop by the festival to hear an exhibitor's story, to get your hands dirty, and to get ideas to start your own project!
BOSTON (PRWEB) October 09, 2019
Boston Children's Museum announced that major sponsors, performers, and exhibitors have signed on for the new CreatedBy Festival. The event will be held for two days on October 25th & 26th, 2019. CreatedBy Festival 2019 (formerly the Boston Mini Maker Faire), produced by Boston Children's Museum, is an annual showcase and festival of ingenuity, imagination, and cross-disciplinary creativity. The CreatedBy Festival features a variety of local creatives, technologists, performers, artists, and speakers. This year, the Museum is proud to partner with Massachusetts STEM Week, a statewide initiative to engage students in hands-on science, technology, engineering, and math activities.
The Museum, in collaboration with Massachusetts STEM Week and CBS Boston, as well as partners Artisan's Asylum, NE FIRST, Olin College of Engineering, and the City of Boston, welcome sponsors Autodesk, BNY Mellon, KinderCare, MathWorks, MEFA's U.Fund College Investing Plan that is managed by Fidelity, National Grid, and Vertex, who have all come together to make the CreatedBy Festival possible.
"BNY Mellon is committed to building the next generation's technology skills and innovative thinking to contribute to society in a digital world," shared Daisey Holmes, Global Head of Philanthropy and Corporate Social Responsibility at BNY Mellon. "The CreatedBy Festival offers children the opportunity to engage in activities designed to recognize patterns, develop problem-solving and other essential skills. We are proud to be a long-time supporter of the Museum and to partner on this community event that many of our employees will be attending with their families."
Attendees can see and interact with creative innovators, artists, and do-it-yourself-ers, and get inspired about the power and potential of creating, inventing, and making. The two day event will include a variety of demonstrations, workshops, performances, and hands-on activities. Artisan's Asylum, one of the biggest makerspaces in New England, will be exhibiting robotics projects, art spectacles, and hands-on activities. NE FIRST will be showcasing robotics projects built by students of various ages, from kindergartners to high schoolers. Higher education will also be represented by makers from Olin College, Brandeis Maker Lab, and Tufts Make Club.
The CreatedBy Festival will include a series of performers such as Science Bob (from Jimmy Kimmel Live), JP Honk, Mike the Bubble Man, and more, who offer a unique approach to creativity and entertainment, from inventing their own instruments to sharing their fun science experiments (http://createdbyfestival.org/performers2019/). Highlighted exhibitors at CreatedBy Festival 2019 include BatttleBots (as seen on TV), New England R2 Builders, Society of Women Engineers, MassArt Fashion, and many more! (http://createdbyfestival.org/featured2019/). CreatedBy Festival will also have exhibitors showcasing digital fabrication technology, metal-smithing, woodworking, textile art, audio-visual music performances, food trucks, and fun!
"There's an excitement in the air! Boston Children's Museum has long been a destination for play and exploration, and all year we have been looking forward to hosting local creatives to provide unique supplemental hands-on experiences," said Neil Tembulkar, STEAM Project Manager at the Museum. "The CreatedBy Festival is our take on a family-friendly show-and-tell: an opportunity to be inspired, to learn, and to take your breath away. Stop by the festival to hear an exhibitor's story, to get your hands dirty, and to get ideas to start your own project! Boston Children's Museum endeavors to continue engaging local organizations and families and provide an annual venue for sharing what is CreatedBy Us."
Friday, October 25th, 10:00am – 5:00pm: Elementary school students, educators, and exhibitors will come together for a full day of robust workshops, hands-on activities, and fun STEAM programs at the Museum. During the day on Friday, CreatedBy will host some of our community's prominent education-focused and education-technology organizations to teach, share, and inspire the visiting school groups.
Friday October 25th, 5:00pm – 9:00pm: Featured exhibitors will bring an array of demonstrations, activities, and spectacles to kick-off the CreatedBy immersion into STEAM principles and applications. All ages are welcome to visit and exhibit!
Saturday October 26th, 10:00am – 5:00pm: The event continues with even more exhibitors, activities, take-home projects, and hands-on fun! In addition to a variety of artists and performers, there will be roboticists, 3D fabricators, augmented and virtual reality innovators, textile artists, metal-forging, and much more!
Boston Children's Museum is excited to offer a festival CreatedBy Boston, CreatedBy You...CreatedBy Us!
Admission to the CreatedBy Festival is $20 per person on Friday and Saturday from 10:00am-5:00pm and $1 per person on Friday from 5:00-9:00pm. To purchase tickets in advance for the CreatedBy Festival visit https://estore.bostonchildrensmuseum.org/webstore/shop/viewItems.aspx?cg=CBFest&c=CBFestGA
Admission is free for Boston Children's Museum members (Information for members regarding reserving tickets): https://estore.bostonchildrensmuseum.org/WebStore/shop/PassLookup.aspx?CG=CBFest&C=MEMCB&RedirectURL=PassValidation&SalesChannelDetailID=953
For additional information visit http://CreatedByFestival.org and BostonChildrensMuseum.org
About Boston Children's Museum
Boston Children's Museum engages children and families in joyful discovery experiences that instill an appreciation of our world, develop foundational skills, and spark a lifelong love of learning. More information about Boston Children's Museum can be found at http://www.BostonChildrensMuseum.org. Become a fan of the Museum on Facebook and follow us on Twitter
Hours and Admission
The Museum is open daily from 10:00 a.m. – 5:00 p.m. Fridays until 9:00 p.m. Adults, $18, children (1-15) and senior citizens, $18; children under 12 months and Museum members are always free. Fridays 5:00 p.m. – 9:00 p.m., all visitors $1.