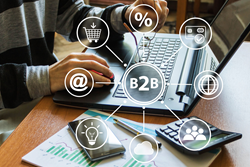 VANCOUVER (PRWEB) May 12, 2020
In the same way that a wildfire destroys old growth to make way for what's to come, the first major pandemic of the technological age has incinerated our day-to-day habits, forcing us to do things differently. As the smoke begins to clear, we realize that some of the changes we've adopted will make for stronger businesses, equipped with an increased resilience to economic downturn.
COVID-19 lockdowns have required organizations to evolve their operations to exist online, spurring a strong drive-to-digital across the board. As many jurisdictions prepare to enter the next phase of reopening, it is vital that companies continue to evolve their operations to survive in the new environment. There's no doubt that their finances will continue to feel the heat. Recession fears result in a pressure to preserve cash, a pressure which is only exaggerated by an increased emphasis on adaptability; you must be able to respond quickly to a quick-shifting landscape. This pressure also means companies benefit from fast, affordable offerings and delivery.
To outrun the blaze, businesses will need to tap into professional networks that offer palatable price points and rapid, reliable execution.
A Major Need
On April 1st, we launched an eCommerce site (https://tincan.shop/). The site allows customers and prospects to transact quickly and engage with us on bite-sized marketing services that they could tackle in this time of need. The service offering was designed to improve its foundation for growth during and after the pandemic.
From this evolution, we realized the greater need of all professional service providers to have a similar capability. But nobody is doing this, at least not effectively. Amazon's home and business services offer task-based services, such as house cleaning and furniture assembly, but no professional services. Plus they charge 20% of the service cost to sellers. There has been a huge COVID-related response from the CPG industry; Google has opened its Shopping platform for free to all retailers. However, all these changes are leaving out one major segment of the industry: Professional service providers.
Having just launched the online store for our marketing services, it has become clear just how few online marketplaces of this kind exist — where professional services can be purchased in this fashion. To fill this need, we pivoted the Tin Can Shop offering to also include partner services to help businesses through this unprecedented time. With this, we introduced The Germ Fight Collective. Discover more about the collective in Mercury.
It's Time To Tame The Flames
The world has been forced to quickly adopt new habits. One March survey by Google showed that 24% of shoppers went online to purchase something they would normally buy in-store and 87% of them said they'd try it again. Retail and service businesses have adapted rapidly to provide their products online. eCommerce is here to stay and consumers are poised to expand their roster of products they feel comfortable buying online.
The need for an online marketplace of professional services has been illuminated by this pandemic. Consumers are primed to adopt this fresh way to transact with trusted experts.
Major Tom is developing a marketplace, which features a complimentary list of professional services. These products are curated from Major Tom's most trusted partners and designed to help business leaders make smart decisions quickly. This will allow for the growth of the companies listed as well as a trusted platform to engage in an eCommerce world with organizations that are not otherwise set up this way.
Example service products include:
Remote Interviewing and Selection from Eleven Eleven Talent
29-Point IT Assessment from Ook
Business Health Roadmap from Bellrock Benchmarking
A Trusted Network To Fuel Business Growth
With over 20 years in business, we've built a network of world-class professionals, who we've worked with ourselves and recommended endlessly to others. We're connecting business leaders with our most trusted professional service providers, so that they have the peace of mind that comes with a friend's referral. We're making them available on an eCommerce platform to help implement needed business solutions faster.
While we've been required to isolate physically, we can use this opportunity to build and leverage connections. Together, we can make our companies stronger than ever before. We can use this wildfire as fuel to build a better way to do business.
About Major Tom
Major Tom is a full-service digital agency that's been purpose-built to help organizations thrive in an increasingly complex landscape. With offices in New York, Toronto, and Vancouver, Major Tom has a team of 55 specialists covering the full spectrum of strategy, marketing, development, and creative.
About The Current Germ Fight Collective Partners
Ook Enterprises Ltd.
Ook is a Vancouver-based Managed IT Services Provider (MSP) led by Luis Giraldo (CEO). Ook has served the small and medium business space across different verticals since 2006, delivering full-stack IT services encompassing everything from networks, servers, desktops and support services, to cloud services and infrastructure. Ook has appeared numerous times on elite MSP lists such CRN's MSP 500 and Pioneer 250, ChannelFutures' MSP 501, as well as being a recipient of the Canada Growth 500 award in 2019.
Eleven Eleven Talent
Eleven Eleven is a talent collective offering enlightened recruitment and HR services for purpose-led companies. Based in Vancouver, we catalyze transformational experiences in the lives of candidates and companies alike.
Bellrock Benchmarking
Bellrock is a Vancouver-based leadership development firm. But different. They believe that smart, hard-working business leaders deserve to be profitable and less stressed but don't always have the right tools to get there on their own. Bellrock fills the gaps for you and your management team – an MBA in a box, customized to your company – whether the focus needs to be strategy, leadership, sales, or operations. They have the tools and they show you how to use them to get results.