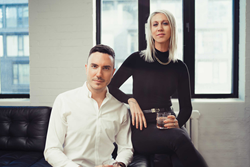 TORONTO, Ontario (PRWEB) March 11, 2020
Lauren Pybus and Mitchell Fawcett, key parts of Major Tom's senior leadership team, are tasked with a mandate to quadruple revenue by 2022, and double the team to fill out the agency's new 35-person space in the Fashion District. With Eastern seaboard-based clients like Orkin Canada, Maison Birks, and NYU, Major Tom has a solid foothold in the East on which to build further client growth.
Their move is the next stage of Major Tom's expansion plan, the first part of which was an intensive, boots-on-the-ground strategic planning by Co-Founder, Chris Breikss.
"As an agency, we place a large focus on understanding and valuing both strategy and tactics," said Major Tom President, Miles Sellyn. "While we apply that methodology to our clients' challenges, we also think about our own growth through that lens. Chris spent his time in Toronto determining a clear strategy for what we need to hit our goals in the East. A central pillar of that strategy is to have sales and operations leadership on the ground there, so we've moved Lauren and Mitchell, two of our best people in those areas, to expedite the process."
Lauren Pybus, Partner & VP Business Development
With more than 12 years of experience as a part of the Major Tom team, Lauren has driven strategic partnerships and growth for the agency in Vancouver and New York over the course of her career. With a keen eye for previously unseen opportunities and an unshakeable commitment to forging strong client relationships, Lauren has been an integral part of successful engagements with some of Major Tom's most well-known brands such as Holt Renfrew and Westbank
"When you need something ramped up, you task Lauren with it - she's the rocket fuel in our spaceship," said Sellyn.
"I work closely with our clients to identify areas of collaboration, drive innovation, and unlock shared value," said Pybus. "We've been able to gain a ton of traction so far, and I'm looking forward to seeing what we can do when I'm able to spend some time with our clients in person, get into their offices, and really understand what makes them tick."
Mitchell Fawcett, VP Operations, East
Mitchell joined the agency in 2017 after Major Tom acquired his boutique social media agency. After laying the foundation for the agency's growth in that service area, he transitioned into a Client Services role, where he quickly transformed the processes related to service delivery and client engagement while delivering strategic work for clients like the Motion Picture Association of America (MPAA) and Colliers International.
"My focus is to continue to evolve the way in which we think about and deliver projects," said Fawcett. "More and more, we're seeing our clients come to us with challenges that are completely unique, and require agility and flexibility from our full-service team. I want to make sure that Major Tom has the best people and processes in place to thrive in those types of conceptual projects."
About Major Tom
Major Tom is the next iteration of digital marketing — a full-service agency that's been purpose-built to help organizations thrive in an increasingly complex landscape. With offices in New York, Toronto, and Vancouver, Major Tom has a team of 70 specialists covering the full spectrum of strategy, marketing, development, and creative.