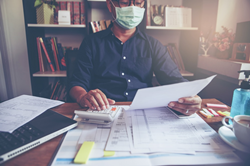 "The decisions that each of us make affect our families and community and these decisions offer the potential to realize the kind of dignity and financial independence we all seek."
FAIRFIELD, Conn. (PRWEB) June 22, 2020
Pre-COVID-19 financial surveys showed that 36% of adults would have to borrow or sell something in order to cover an unexpected $400 expense—while post-pandemic, the number increased to 54%.(1) Many Americans are reviewing their finances and planning to make changes, though unfortunately many are finding themselves to be ill-prepared. "Financial literacy needs to be addressed in the schools, colleges and in the community," says Jeff Mount, CEO of Real Intelligence, LLC. "The decisions that each of us make affect our families and community and these decisions offer the potential to realize the kind of dignity and financial independence we all seek."
According to a poll recently conducted by The Harris Poll, many Americans are planning to change their financial habits in light of recent events. Roughly 2 in 5 citizens say they are saving more money now than they were prior to the COVID-19 pandemic. Almost all (94%) reported spending less on non-essential items, and 75% said they planned to take financial actions after COVID-19—with nearly 20% of those saying they planned to start a retirement savings plan or increase the amount they were contributing to an existing one.(2)
But many Americans don't know how to strategically invest their money, which leads to panic buying and selling as current events sway their moods.(3),(4) A survey conducted by the National Financial Educators Council found that Americans from various age groups estimated their lack of knowledge about personal finances cost them more than $1,000 a year with 25% estimating they had lost more than $30,000 across their entire lifetime due to lack of knowledge about personal finances.(5)
Mount says that good habits should start with an understanding of how much is needed to fund each of life's major events. "You can then run a series of soundly calculated 'what ifs' that can guide your thinking on navigating real financial investment decisions in the present," Mount says. "This helps you to understand your probability of success when attempting to fund events like college tuitions, weddings, and retirement."
Though sound financial advice can make a positive difference at any time, investors and planners have a unique opportunity now to make a big change in American's financial planning, as well as investment outcomes. While one-on-one discussions and meetings are essential when advising someone about their finances, apps and online programs have been shown to help individuals of all ages become financial literate.(6),(7) Some tools like Real Intelligence's Dynamic Mapping financial planning program can help investors and planners understand the consequences of strategic decisions in real time.
"Financial-assistance resources are arguably now more important than ever for investors looking to establish purpose-based investment objectives and better manage risk in a post-pandemic market," Mount says. "There is no better time to enact significant changes in investment behavior to prevent financial devastation the next time a crisis occurs."
About Real Intelligence LLC:
Real Intelligence, LLC is the brainchild of entrepreneurs and industry experts Jeffrey Mount and Mike Helgesen. With 55 combined years of industry expertise and the alliance of both their AI inventions: Dynamic Mapping and training program, Essential Family Office – Real Intelligence LLC is poised to offer a complete essential tool kit to the next generation of elite Financial Advisors. With strategic, industry proven training, patented technology, and an unprecedented lead generation opportunity the paradigm of financial services is shifting from status-quo. This human-centered approach to financial planning is a consultant's greatest tool to combat the competitive threat of free programs through robo-advisers and the dangers of irrelevancy. For more information, visit http://www.realintelligence360.com.
1. Marwitz, C.J., "4 financial & retirement problems COVID-19 made worse – will post-COVID solutions be ambitious enough?" BenefitsPRO, June 4, 2020, benefitspro.com/2020/06/04/4-financial-retirement-problems-covid-19-made-worse-will-post-covid-solutions-be-ambitious-enough/?slreturn=20200513104425.
2. El Issa, Erin, "Survey: How the Pandemic Alters Americans' Financial Habits" Plaquemine Post South, June 11, 2020, postsouth.com/ZZ/business/20200611/survey-how-pandemic-alters-americans-financial-habits.
3. DeCambre, Mark, "The Nasdaq is exhibiting signs of panic-like buying – not selling as NYSE-listed stocks are showing panic selling" MarketWatch, June 11, 2020, marketwatch.com/story/the-nasdaq-is-exhibiting-signs-of-panic-like-buying--not-selling--even-as-the-stock-market-gets-rocked-thursday-2020-06-11.
4. Koukoulas, Stephen, "Stock market panic has turned into market euphoria: What's next?" Yahoo Finance AU, June 10, 2020, au.finance.yahoo.com/news/stock-panic-euphoria-231629112.html.
5. "Financial Illiteracy Cost Americans $1,279 in 2019" National Financial Educators Council, January 8, 2020, financialeducatorscouncil.org/financial-illiteracy-costs.
6. O'Connell, Brian, "Teaching Kids Financial Literacy During the Pandemic: A Primer" The Kitchen Table Economist, June 9, 2020, thestreet.com/mainstreet/news/teaching-kids-financial-literacy.
7. McNamee, Paige, "Briefcase babies: How financial apps are helping kids learn about much more than money" Finextra, June 10, 2020, finextra.com/the-long-read/42/briefcase-babies-how-financial-apps-are-helping-kids-learn-about-much-more-than-money.
# # #