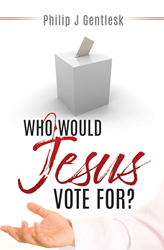 I want readers of this book to understand that the very best then they can do when they step into the voting booth on November 3 is to cast their ballots for the man who stands up for and defends the Judeo-Christian principles our country was founded on
WAXHAW, N.C. (PRWEB) September 19, 2020
Author Philip J. Gentlesk gives detailed support of his choice of Donald Trump for re-election in Who Would Jesus Vote For? ($11.49, paperback, 9781632214010; $19.99, hardcover, 9781632214027; $5.99, e-book, 9781632214034).
Gentlesk believes the Democratic party has drifted away from its former purpose and is leading our country away from the principles of its founders. He offers his reasons for supporting America's current President to serve another four years in office, and his faith in the work of a God-elected leader.
"I want readers of this book to understand that the very best then they can do when they step into the voting booth on November 3 is to cast their ballots for the man who stands up for and defends the Judeo-Christian principles our country was founded on," said Gentlesk.
Philip J. Gentlesk is an American father, grandfather and business owner who has voted in every election since 1968.
###
Liberty Hill Publishing, a division of Salem Media Group, is a leader in the print-on-demand, self-publishing industry. Who Would Jesus Vote For? is available online through amazon.com and barnesandnoble.com.