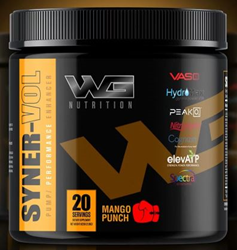 NEW YORK (PRWEB) October 02, 2018
You know that boost you feel from typical workout powders, capsules, and beverages? That's caffeine and it's sometimes found in amounts that are enough to power a small village. Caffeine also wreaks havoc on the adrenal system and mess with sleep.
That's why WGNutrition created SyNer-VOL, a huge leap forward in the exercise industry that can be taken any time without interfering with sleep. And the daily workout powder supplement provides a solid base for nutrient repartitioning, blood flow, muscle growth, and calorie burning. Plus, SyNer-VOL contains Cognizin® Citicoline for better focus, attention, and brain energy. *
"We designed SyNer-VOL to offset fatigue, increase power output, improve overall body composition, and increase blood flow—along with mind and muscle connection with Cognizin®," said Renee Burns, WG Nutrition founder. "Now, imagine doing all that without large amounts of caffeine!"
For more information about SyNer-VOL, visit https://www.warmglowtan.com/snyervol.
Citicoline is a popular nootropic that's found in every cell of the body and is especially vital to our brain health and cognitive function. Unlike artificial stimulants that ramp up energy and attention levels only to have those levels come crashing down later, Cognizin® Citicoline provides nutritional support that benefits:

Mental processes
Focus
Healthy brain metabolism
Cognizin® has been studied in a variety of human clinical trials. The most recent human clinical trial focused on the benefits of Cognizin® on healthy, middle-aged adults. Conducted at the Brain Imaging Center at McLean Hospital, researchers found increases in brain activity among participants that had taken a Cognizin® supplement for six weeks. Of note, differences were noticeable in those participants that performed tasks that required sustained attention. *
Clinical trials have also found that Cognizin® Citicoline supports healthy mitochondrial function. These powerhouses within our cells are what produce the brain's energy. Healthy mitochondrial function results in higher levels of ATP (Adenosine triphosphate)—our bodies primary energy storage molecule—in brain cells. *
About WGNutrition
WG nutrition was founded in March of 2018 by Renee York CEO and owner and myself as CO founder and President of formulations. I hold a B.S in chemistry and have been in the fitness industry for over 10 years. I have worked for some solid companies with Scivation, ALRI, and HPN in my time and have been lucky enough to inherit the induluences of there CEO's. I personally have always been into the formulation aspect as I'm a life long natural athlete.
Our goal with WG nutrition was to bring validated clinically dosed product that is backed with science. We also wanted to be fully transparent in all labeling and hide nothing from our customers. I personally take the formulation role very serious knowing our customers deserve the best. This was one of the main reasons SYNER-VOL was made to be caffeine free. However I noticed the bennifit of Cognizin and did quite a bit of research and concluded it was a must have.
We will continue to formulate supplements that are designed to provide a true physique and performance enhancement.
Quality, Reasearch, and Tranparency are the 3 pillars WG nutrition is built on
https://www.warmglowtan.com/.
About Cognizin
Cognizin® Citicoline, manufactured by Kyowa Hakko Bio Co., Ltd., is a clinically studied and patented form of Citicoline, a natural substance found in every cell of the body and especially vital to brain health. * Citicoline is a potent brain-health nutrient. A proprietary form of citicoline, Cognizin® has been clinically studied to support mental energy, focus, attention, and recall. Cognizin is manufactured through a patented fermentation process to yield high quality and high purity. Cognizin is also highly stable, GRAS, ultra-pure and allergen-free. For more information on Cognizin, visit Cognizin.com.
About Kyowa Hakko USA
Kyowa Hakko USA is the North & South American office for Kyowa Hakko Bio Co. Ltd., an international health ingredients manufacturer and world leader in the development, manufacturing, and marketing of pharmaceuticals, nutraceuticals and food products. Kyowa is the maker of branded ingredients including Cognizin® Citicoline, Pantesin® Pantethine, Setria® Glutathione, as well as Sustamine® L-Alanyl-L-Glutamine. For more information visit Kyowa-USA.com.
*These statements have not been evaluated by the Food and Drug Administration. This product is not intended to diagnose, treat, cure, or prevent any disease.
# # #