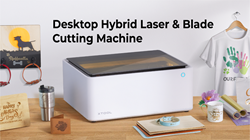 Our goal was to create a powerful tool for everyone; one that brought users more possibilities in material choices and to free their creativity
SHENZHEN, China (PRWEB) November 05, 2021
On November 1st, Makeblock announced that their Kickstarter campaign for xTool M1, the first hybrid laser and blade cutting machine, was fully funded in 15 minutes and the brand had raised $1M within the first five days. There are 34 days remaining in the crowdfunding campaign, where DIY lovers may purchase the machine at the best-ever price before it launches at retail. The 5W laser power model starts at $699 (MSRP $1,299), the 10W model starts at $799 (MSRP $1,499), and a rotary attachment that unlocks 360° engraving for cylindrical objects is available as an add-on for $99 (MSRP $129).
"Makeblock got its humble beginnings eight years ago after launching our first project on Kickstarter," said Jasen Wang, Makeblock Founder & CEO. "Today, we want to express our gratitude again to the amazing backer community for their support in helping us bring xTool M1 to life and empower individuals to enjoy the fun of creating at home."
In terms of next steps for the campaign, Makeblock is on track to receive FDA/FCC/CE-LVD/EMC certifications before March 2022, which are necessary for delivering the product to the US, EU and most areas in the world. The brand is also in the process of building an xTool community for all of their users to learn, create, and share. It will provide multiple project cases with detailed instructions including digital design files, step-by-step instructions, materials checklists, and parameter settings, plus millions of digital design files for users to download. Campaign stretch goals will be announced shortly.
"Our goal was to create a powerful tool for everyone; one that brought users more possibilities in material choices and to free their creativity," continued Wang. "Thanks to the Kickstarter community we can bring hybrid laser and blade power to the masses, at an affordable price."
The estimated delivery date of xTool M1 is March 2022. Media wishing to interview their personnel should contact PR agent Borjana Slipicevic.
Media Contact
Borjana Slipicevic
Proper Propaganda
borjana@properpropaganda.net
About xTool
xTool is part of Makeblock, a world-renowned coding robot manufacturer & education solution provider. The brand's story started with a lot of love and a little inspiration - "how can we make it easier and safer for kids to enjoy creating?" The company's first product was the xTool LaserBox, which launched in 2019 and won the Reddot Design Award and the Golden Pin Concept Award. Since then, the brand's mission has been to help people turn their creativity into reality (and have fun doing it)! Today, they have more than 100 partners (distributors) worldwide. And xTool products are loved and recognized by numerous crafters and DIY lovers.
About Makeblock
Makeblock Co., Ltd, founded in 2013, is a leading STEAM education solution provider. Targeting the STEAM education and entertainment markets for schools, educational institutions, and families, Makeblock provides the most complete hardware, software, content solutions, and top-notch robotics competitions, with the aim of achieving deep integration of technology and education. To learn more, please follow @Makeblock on Facebook and Twitter or visit http://www.makeblock.com.