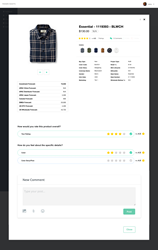 With the seismic consumer and channel shifts occurring today, brands that are not prioritizing responsive and bold new approaches to both internal collaboration and external market agility will lose.
SAN FRANCISCO (PRWEB) August 26, 2020
MakerSights, the product decision platform for retail, today is releasing Digital Line Review, a first-of-its-kind digital collaboration tool enabling brands to make smarter, more efficient decisions about what products to bring to market. Trusted by global brands like Levi's, Ralph Lauren, and Lululemon for voice of consumer intelligence, MakerSights is extending its platform to enable product, merchandising, and sales teams to remotely manage complex assortment reviews, streamline merchandising decisions, and reduce time-to-market through faster, more iterative feedback cycles. By shifting collaboration online with Digital Line Review, brand teams save time and money on costly global meetings, democratize access to data across the organization, and ultimately increase confidence in product decisions by up to 88 percent.
As COVID-19 catalyzes chaos and change across the retail industry, Digital Line Review directly supports brands who — almost overnight — have had to shift to remote work for the first time. According to a recent survey of over 280 U.S. product and merchandising professionals conducted by MakerSights, 57% stated the most critical challenge facing their company today was the loss of productivity due to the COVID-19 shutdown. With only 19% feeling satisfied with their current technology, 46% called specifically for collaboration software to streamline operations, improve efficiency, and increase confidence in decision making within their organizations — highlighting a need for new solutions that has only been exacerbated by the disruption of COVID-19.
"COVID-19 has undoubtedly disrupted our usual review meetings process, but it's also provided us an opportunity to refine them to be more collaborative, efficient, and interactive," said Gretchen Weimer, Global Vice President of Product, HOKA ONE ONE. "MakerSights' Digital Line Review has drastically improved the dialogue between regions and made it more dynamic and transparent. This type of collaboration is now central to our team and makes it easier than ever to deliver premier products that will resonate with our customers' needs and lifestyles."
Reimagining how brands bring products to market
Over the last few decades, the product-to-market process at global retail brands has grown increasingly complex, inefficient, and expensive. From design to investment planning to sales, each phase operates in a silo with contentious hand-offs between teams over the course of 18 months or more. Global teams must fly in from around the world to make decisions in-person, with feedback from other functions often surfacing too late for it to be actionable. Locked into decisions made months prior, brands are completely unable to react and adjust for rapidly changing consumer trends — much less to unexpected market conditions like the COVID-19 shutdown. The result is disastrous for both brands and the planet: retailers waste billions of dollars on products consumers don't want, while unsold inventory contributes to the 21 billion pounds of excess clothing filling landfills each year.
Covid-19 has only exacerbated this problem, suddenly forcing brands to manage this process and make major decisions remotely without sufficient software. Most brand teams rely on a combination of cobbled together legacy tools like Word documents, spreadsheets, annotated PDFs, and lengthy email threads that weren't designed for complex collaboration across global teams managing hundreds of products. Even with remote conferencing options, brand teams lack a centralized workspace specifically designed for their needs and workflows. Digital Line Review is a purpose-built, dedicated solution addressing this gap and evolving the initial incarnation of a digital working model, allowing all key information and collaboration to happen in one easy to access place.
In the current retail climate, brands must relentlessly focus on their consumer to ensure new products resonate and de-risk inventory decisions. Digital Line Review provides users with a comprehensive look at 3D renderings of the assortment, internal feedback from regional merchants and sales teams, and consumer sentiment on new products in one place. This enables brand teams to evaluate internal and market feedback on new products in a shared workspace and address questions, challenges, and roadblocks faster. Retail brands can now unlock dynamic decision making throughout the product-to-market lifecycle and easily collaborate whether teams are in the same room or halfway around the globe.
"With the seismic consumer and channel shifts occurring today, brands that are not prioritizing responsive and bold new approaches to both internal collaboration and external market agility will lose. It's mission critical brands rapidly streamline their decades-old practices and do so to support this new remote work environment," said Matt Field, co-founder and president of MakerSights. "As a new retail calendar emerges, one that must emphasize agility and consumer responsiveness, our customers are in need of a solution that promotes an entirely new way of developing products remotely and efficiently. We're looking forward to partnering with leading, innovative brands to ease this part of the product journey and contribute our part to a more sustainable solution."
Digital Line Review is now generally available. For more information please visit MakerSights.com.
About MakerSights
MakerSights is the product decision platform powering nimble, resilient retail brands through consumer-led collaboration. Instead of making inventory bets of more than $1 trillion each year on past performance trends and intuition alone, MakerSights centralizes the data, feedback, and workflows required for brands to identify winning products and increase margins — while creating products their consumers love. Before a single sample is created, brand teams make critical product line decisions directly in MakerSights with the information they need at their fingertips.
Today, leading brands like Levi's, Ralph Lauren, and Lululemon trust MakerSights to align their teams, connect with consumers, and create products with confidence. Founded in 2015 and backed by Forerunner Ventures, MakerSights partners with global retail brands in apparel, footwear, and home and lifestyle — including 10 of the top 20 brands in these categories worldwide.
Press Contact:
MakerSights at Mission North
makersights@missionnorth.com