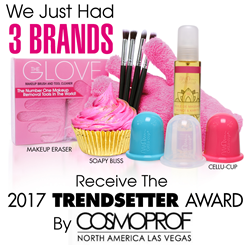 Phoenix, AZ (PRWEB) August 02, 2017
MakeUp Eraser​, ​a Phoenix family-owned business that has brought ​new revolutionary beauty products to the marketplace for millions of women, is excited to announce three of their products received the 2017 Trendsetter Award. The awards were presented July 9th through July 11th at the CosmoProf beauty show in Las Vegas, Nevada; the biggest beauty show in the country.
"CosmoProf is one of, if not the most important beauty shows in the world,"​ said Daniel McCarthy, CEO of MakeUp Eraser. "​We are honored that our hard work and innovation is being recognized.​"
Over the three-day event, more than 33,000 attendees and 1,000 exhibitors came together to discover unique brand launches, product innovations and form relationships with top industry professionals and retailers. Each year, CosmoProf awards the top 10 trending beauty products of the year. MUE Lifestyle, a product line powered by MakeUp Eraser, was chosen to receive three of the 10 awards. The award-winning products include:

MakeUp Eraser Glove​: A product that cleans your makeup brushes without cleansers. It can be used in the shower to help clean and exfoliate the body and is reusable up to one-thousand machine washes.
Soapy Bliss​: Bath bombs, lotions and scrubs that are handcrafted in Arizona and made with natural, organic ingredients.
Cellu-Cup​: Beauty solution product for diminishing cellulite.
These three products can be found in many stores across the country. To get a hold of one
of the top trending beauty products and many others visit https://makeuperaser.com.
About MakeUp Eraser
Founded in 2012 by Daniel and Elexsis McCarthy, The Original MakeUp Eraser is America's number one makeup remover. It's an all natural method to remove makeup. No harsh chemicals are used in the product and the makeup is taken off with just water. It's a revolutionary tool used by millions of women worldwide. Since the launch of MakeUp Eraser, MUE Lifestyle, the parent company has brought new products to the marketplace that compliment the MakeUp Eraser.
Daniel McCarthy
CEO of MakeUp Eraser
daniel(at)makeuperaser(dot)com
(623) 628-7372
Amanda Kukkola
Public Relations
akukkola(at)msn(dot)com
(602) 295-2983