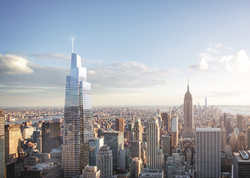 Beyond technology, One Vanderbilt represents innovation in public-private partnership for the commercial real estate market.
MORRISTOWN, N.J. (PRWEB) September 24, 2020
Schindler Elevator Corporation, one of the collaborators on SL Green Realty Corp.'s One Vanderbilt Avenue project, is excited to share that the doors to this iconic building are officially 'open.' At 1,401 feet tall, One Vanderbilt is now the tallest building in the Midtown area of Manhattan. Even more iconic than its height, the structure brings a groundbreaking vision of enhanced quality of work, life and mobility to one of the city's – and the world's - busiest office districts.
What's Inside
For this project, Schindler provided three Schindler 9300 escalators and 36 Schindler 7000 elevators, 32 of which are equipped with PORT technology, including one double decker elevator. The use of PORT ensures that the tenants and guests of One Vanderbilt will be able to get to their destinations as efficiently as possible by grouping riders headed to the same floors together. As New York fights its way back to business as usual, PORT will prove invaluable in preventing packed lobbies due to high foot-traffic. The project also includes five hydraulic elevators, including (2) 60,000 lb truck lifts.
To provide additional advanced hygiene, Schindler is providing two critical CleanMobility technologies to select escalators in One Vanderbilt: Schindler Ultra UV Pro and CleanRail. CleanRail utilizes antimicrobial additives to prevent microorganisms from degrading the product while Ultra UV Pro employs ultraviolet light to sanitize the handrail and combat the spread of bacteria and viruses during operation.
The elevators are also equipped with regenerative drives which recuperate electricity as they run and put that energy back into the building's power grid – a step forward in sustainability. This can lower elevator energy consumption by up to 30% saving costs as it makes a significant reduction in overall building energy needs.
What's Underneath
Beyond technology, One Vanderbilt represents innovation in public-private partnership for the commercial real estate market. In collaboration with the City of New York and the Metropolitan Transportation Authority as part of the historic rezoning of East Midtown, One Vanderbilt includes a $220 million investment in public open space and transit infrastructure improvements that will help ease congestion and overcrowding on subway platforms, improve circulation in and around the terminal and create new, direct pathways to the regional railroads such as Metro-North and Long Island Rail Road.
As a part of this historic partnership, Schindler is providing five 9700 escalators and three elevators which will serve the 4, 5, 6, and 7 subway lines collectively, helping both New Yorkers and visitors experience better connected mobility throughout Grand Central subway station.
"New York City is a real estate market in its own class, and Schindler is honored to have been a part of this historic project along with SL Green, AECOM Tishman, Kohn Pederson Fox and many more. One Vanderbilt is a shining example of how real estate can be much more than a building but an asset to a city and its people," says Schindler President Greg Ergenbright, "With the building's opening, I'm reminded of the resilience of this city and look forward to continuing to watch it come back stronger than ever before."
On Monday, September 14, a ribbon cutting ceremony took place at the site attended by SL Green, government and transit officials, labor leaders, building tenants and the development team to celebrate the day.
About Schindler Elevator Corporation
Schindler Elevator Corporation is the North American operation of the Switzerland-based Schindler Group, a leading global mobility provider of elevators, escalators and related services. Schindler supports sustainable urban development with safe, reliable and sustainable mobility solutions, moving more than one billion people every day all over the world. Behind the company's success are over 60,000 employees operating in more than 100 countries. For additional information about Schindler Elevator Corporation, visit the company's Web site at http://www.us.schindler.com.