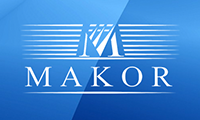 (PRWEB) July 12, 2016
Makor was ranked #1 in Global Special Situation Sales in the 2016 Extel survey, Europe's leading investor survey. Previously, Makor was ranked #2 in 2015 and #3 in 2014.
This achievement reflects Makor's unwavering dedication and commitment to its clients by providing highly relevant and in-depth research coverage on companies involved in mergers and acquisitions.
Makor's daily challenge is to maintain its leading position in the world of Equity Arbitrage and Special Situations. In a constant effort to gain more expertise and knowledge, Makor acquired the New York based Oscar Gruss & Son 2 years ago. Oscar Gruss whose history dates back to 1918 specializes in US risk arbitrage and has over 20 years of expertise in the field. The acquisition of Oscar Gruss has facilitated Makor's expansion in the US as it has strengthened its research in risk arbitrage and global special situation sales as well as in hedge fund coverage. Makor has only been in existence for the past 5 years; yet, it is continuing to grow rapidly every day without exception.