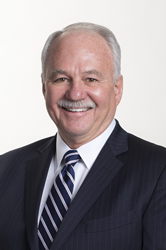 "It is an honor to be named as a finalist alongside these inspiring New Jersey entrepreneurs," said Malcolm McLaren, founder and CEO, McLaren Engineering Group.
WOODCLIFF LAKE, N.J. (PRWEB) May 08, 2019
EY has announced that Malcolm G. McLaren, founder and CEO, McLaren Engineering Group, is a finalist for the 2019 Entrepreneur of the Year® New Jersey Award. Widely considered one of the most prestigious business awards in the U.S., the program recognizes entrepreneurs and leaders of high-growth companies who are excelling in areas such as innovation, financial performance and personal commitment to their businesses and communities, while also transforming our world.
In the 1970s, McLaren spearheaded the concept of the "engineer-as-diver" profession after being inspired as a young scuba diver. Driven by McLaren's creative, out-of-the-box thinking, the firm also pursued opportunities in glass and glazing, building structures, entertainment and marine engineering work.
Since founding the firm in his basement in 1977, McLaren has designed and engineered some of the country's most important bridges, structures, waterfront destinations and entertainment venues. A few award-winning projects include technical and creative services for the MGM Grand Showroom's resident show "KA," an 80-foot animatronic Crane Dance in Sentosa Bay, Singapore and comprehensive work on 95 percent of New York City's ferry landings.
"I started McLaren Engineering Group when I was 25 years old, performing underwater inspections on bridges and offering structural engineering services for buildings," said McLaren. "Four decades later, I'm proud to say that we have engineered over 15,000 projects around the world."
In 2018, McLaren opened a 57,000-square-foot Class A corporate office in Woodcliff Lake, N.J., which has the capacity to grow to 250 professionals. The firm has also recently expanded its regional offices in New York City, Albany, Philadelphia and Allentown, Pa.
Today, McLaren Engineering Group employs over 250 people in 11 offices, serving 10 key markets including arts, entertainment and exhibits; education; energy; government; healthcare; industrial; ports, coastal and waterfront; public infrastructure; real estate development; and transportation.
"It is an honor to be named as a finalist alongside these inspiring New Jersey entrepreneurs," McLaren continued. "These are industry leaders and determined individuals, all of whom are making a difference in their respective markets."
Malcolm McLaren was selected as a finalist by a panel of independent judges. Award winners will be announced at a special gala event on June 20, 2019, at the Hyatt Regency, New Brunswick, N.J.
About McLaren Engineering Group
For over 40 years, McLaren Engineering Group has provided innovative, customized engineering solutions for more than 15,000 projects. With over 250 employees in 11 offices, McLaren is licensed in 49 states and serves 10 key markets. With experts in numerous engineering disciplines – and a passion for creativity and out-of-the-box thinking – McLaren can address any project's specific range of design requirements with technical excellence. McLaren has offices in Woodcliff Lake, N.J., New York City, N.Y., Albany, N.Y., Philadelphia, Pa., Lehigh Valley, Pa., Middletown, Conn., Baltimore, Md., Roswell, Ga., Orlando, Fla., San Luis Obispo, Calif., and Oran, Algeria. http://www.mgmclaren.com
About Entrepreneur of the Year®
Entrepreneur of the Year®, founded by EY, is the world's most prestigious business awards program for entrepreneurs. The program makes a difference through the way it encourages entrepreneurial activity among those with potential and recognizes the contribution of people who inspire others with their vision, leadership and achievement. As the first and only truly global awards program of its kind, Entrepreneur of the Year celebrates those who are building and leading successful, growing and dynamic businesses, recognizing them through regional, national and global awards programs in more than 145 cities and more than 60 countries. http://www.ey.com/eoy.
Sponsors
Founded and produced by Ernst & Young LLP, the Entrepreneur of the Year Awards are nationally sponsored by SAP America and the Ewing Marion Kauffman Foundation. In New Jersey, sponsors also include DLA Piper and PNC.