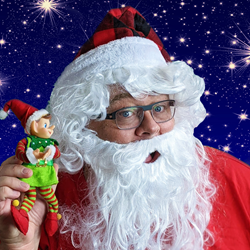 Our goal is that everyone who wants to visit with Santa and share his magic can do so safely and virtually from home.
SAN DIEGO (PRWEB) November 24, 2020
This has been a different sort of year. While the holidays should always be a joyous time of celebration, family traditions, and a little magic sprinkled everywhere - this year is different. In-person visits with Santa have unfortunately been relegated to socially distanced experiences featuring Santa locked in a plexiglass cage or sheltered inside of a plastic snow globe bubble. Others have decided to offer virtual Santa visits and are charging fees that frankly most families simply can't afford at such an economically challenging time.
The mission of The Kringle Life is that everyone who wants to visit with Santa and share his magic can do so safely, from home.
That's why James and his wife Heather created The Kringle Life (http://www.TheKringleLife.com). The site offers virtual Santa visits starting at only $10 per family for individual visits and $5 for group story time and sing-along sessions. We hope to also offer our talents to non-profit organizations who are interested in virtual visits so that we can spread good holiday cheer to as many kids and families as possible regardless of financial status.
"Despite a year that has ravaged us financially due to our roles in the travel and hospitality industry, we have been blessed by being able to work virtually and stay healthy," says James "Santa" Hills. "Heather aka Ms. Holly and I firmly believe in using our talents and blessings to help other people. Ever since COVID began, we've donated our time, talent, and resources to support local tourism and hospitality through our series of virtual events promoting hospitality businesses and travel destinations struggling to recover. With the Holidays here, we knew it was time to shift gears and go back to basics and focus simply on spreading joy and creating smiles wherever we can."
In addition to offering virtual visits, Santa will be spreading joy on social media including TikTok https://www.tiktok.com/@thekringlelife .
When not playing Santa and Ms. Holly, James and Heather run a network of web properties including: the men's lifestyle and travel blog ManTripping.com, men's lifestyle blogger network MenWhoBlog.com, cruise website CruiseWestCoast.com, and travel advisor agency FlowVoyages.com.
For more information about The Kringle Life or to schedule a virtual Santa visit, please visit TheKringleLife.com or email Heather, hmhkent@gmail.com.