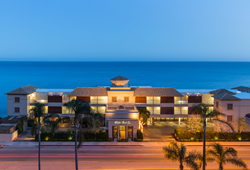 MALIBU, Calif. (PRWEB) June 11, 2020
Malibu Beach Inn, the luxury boutique hotel nestled on the sands of the Pacific Ocean in the heart of Malibu, furthers their partnership with Bellino Fine Linens, a 30-year-old leading luxury linen brand based in Italy and the U.S., to create custom masks, whereby half will be utilized for staff and the rest will be donated to local Malibu charity, Boys & Girls Club of Malibu, for essential services personnel.
"We've enjoyed a wonderful relationship with Maurizio and his team at Bellino over the years, as they outfit all our rooms with their luxury linens. We share similar core values both as family owned and operated businesses and we are proud to support the local community through the local Boys & Girls Club of Malibu and our essential workers with this initiative," says Gregory Day, general manager of Malibu Beach Inn.
Malibu Beach Inn is purchasing 1,000 reusable masks crafted from the same linens used at the hotel, comprised of two layers of crisp 200TC 100% cotton percale and one layer of microfiber, which catches and detains all particles. Unlike most masks that are paper or polyester, cotton is antibacterial and can be washed at 140 degrees with detergent which may contain bleach. They are also treated with a thin wax/resin coating which makes them water repellent.
"We wear masks out of respect for nurses, doctors, and other essential workers," says Maurizio Bussolari, vice president of sales & marketing of Bellino. "It's our goal to spread this message of respect and love by gifting one for one. Our business model affords us the resources to make masks and we are honored to support Malibu Beach Inn and the Boys & Girls Club of Malibu during this time."
About Malibu Beach Inn
Malibu Beach Inn is located off the iconic Pacific Coast Highway, lies Malibu Beach Inn, a five-star boutique where the Pacific Ocean meets California's seaside haven. Positioned along a strip of coastline famously nicknamed "Billionaire's Beach," the 47-guestroom property offers panoramic ocean views, coastal inspired design and a revered art collection from owners Mani Brothers Real Estate Group. This Leading Hotels of the World and Virtuoso property is also home to CBC-Malibu (Carbon Beach Club), which serves locally sourced California cuisine, world-renowned wine selections and cleverly crafted cocktails. For more information, please visit http://www.malibubeachinn.com or on Facebook and Instagram.
About Bellino Fine Linens
Bellino has provided exquisite linens for the bed, bath and table since 1991 and are one of the most distinguished luxury brands in the industry. We offer an extensive product range to suit the needs of the most sophisticated buyer: from 200 to 600TC percale and sateen to elegant jacquards to matelasse' to prints to cashmere blends. Our mission is to supply the most exclusive luxury and boutique hotels, restaurants, cruise ships, interior designers and end users with the finest quality products stocked in the US for quick deliveries at the most competitive prices. Our technologically advanced and sustainable mills around the world allow us to offer very high-quality products and unlimited capability of customizations. Our showroom is in NYC and warehouses in NJ and Miami. For more information, please visit http://www.bellinofinelinens.com or on Instagram.
About Boys & Girls Club of Malibu
The Boys & Girls Club of Malibu and Waveside Church have partnered to meet the needs of our Senior Citizens and most vulnerable families with FREE non-perishable food pantry items, weekly grocery deliveries, supplies, and welfare checks. BGCM is committed to meeting the needs of our Senior Citizens and most vulnerable youth and families. Like all organizations and agencies who support children, BGCM is faced with difficult choices at this time. We learned a great deal about supporting the community at large during the fires and we are honored to respond and support Malibu during this challenging time.
Our Clubhouses are currently closed to children, with Summer Programs TBD. To date, we have virtually provided our families with educational, recreational, and mental health resources so our children and their families have the ability to continue to learn, grow, and find a sense of support.
To learn more information, please call/email:
310-457-1400
emergencyrelief@bgcmalibu.org