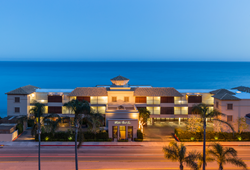 LOS ANGELES (PRWEB) October 06, 2020
Malibu Beach Inn, a five-star boutique hotel where the Pacific Ocean meets California's seaside haven, has been recognized today by the coveted Condé Nast Traveler annual Readers' Choice Awards, ranking as the #1 Hotel in Southern California. Located along an iconic strip of California's coastline, Malibu Beach Inn is a 47-room boutique hotel offering breathtaking oceanic panoramas, refined design, and luxury experiences inspired by Malibu's effortless ambiance.
More than 715,000 Condé Nast Traveler readers submitted an incredible number of responses rating their travel experiences across the globe.
"It is an honor to be voted by the discerning readers of Condé Nast Traveler as the #1 hotel in Southern California," says General Manager Gregory Day. "Our recognition on the list is a testament to the admirations of our guests, hard work of our dedicated staff, and our commitment to offering the highest level of service and creative experiences, even during the challenges of recent times."
"The results of this year's survey, conducted at the start of the COVID-19 pandemic, are a testament to the lasting power of a meaningful travel experience," said Jesse Ashlock, U.S. Editor of Condé Nast Traveler. "The winners represent the best of the best for our audience and offer plenty of trip-planning inspiration for all the adventures we can't wait to have next."
The Condé Nast Traveler Readers' Choice Awards are the longest-running and most prestigious recognition of excellence in the travel industry. The full list of winners can be found here.
Nestled between the Pacific Ocean and Southern California's Pacific Coast Highway, the five-star boutique hotel is set on the exclusive sands of Carbon Beach in Malibu offering breathtaking oceanic panoramic views and a coveted retreat for the most discerning traveler. The 47 well-appointed guestrooms and suites – each with an ocean view – are thoughtfully designed with clean, contemporary lines and luxurious natural materials that perfectly reflect Malibu's seaside haven. The hotel's exemplary service is driven by a highly anticipatory culture, bespoke details and one-of-a-kind amenities that are interwoven with real personal connection fostered between the dedicated staff and long-standing guests.
The 2020 Readers' Choice Awards are published on Condé Nast Traveler's website at http://www.cntraveler.com/rca and celebrated in the November issue of Condé Nast Traveler US and UK print editions. This year's award marks the fifth consecutive year Malibu Beach Inn has been recognized by the publication's coveted Readers' Choice Awards.
About Malibu Beach Inn
Malibu Beach Inn is located off the iconic Pacific Coast Highway, lies Malibu Beach Inn, a five-star boutique where the Pacific Ocean meets California's seaside haven. Positioned along a strip of coastline famously nicknamed "Billionaire's Beach," the 47-guestroom property offers panoramic ocean views, coastal inspired design and a revered art collection from owners Mani Brothers Real Estate Group. This Leading Hotels of the Worldâ and Virtuosoâ property is also home to CBC-Malibu (Carbon Beach Club), which serves locally sourced California cuisine, world-renowned wine selections and cleverly crafted cocktails. For more information, please visit http://www.malibubeachinn.com or on Facebook and Instagram.
About Condé Nast Traveler
Condé Nast Traveler is the world's most distinguished travel title providing inspiration and advice for discerning travelers. Authoritative and influential, Condé Nast Traveler is a multi-platform, transatlantic brand. Publishing US and UK print editions under Editor-in-Chief Melinda Stevens, Condé Nast Traveler offers award-winning expertise in luxury travel from around the world. For more, visit http://www.cntraveler.com. For press inquiries, please contact: awards@condenasttraveler.com