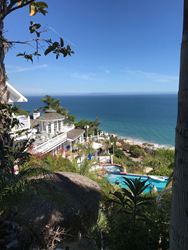 This is a sale not to be missed! This Malibu estate is an eclectic mix of 1970's chic and everything must be sold!
MALIBU, Calif. (PRWEB) October 05, 2018
Kaminski Auctions announces a Malibu Estate Tag Sale to be held Thursday-Sunday, October 11th-14th, 9AM-5PM at 21500 Calle del Barco, Malibu, California. Well known as the "Picasso of Malibu" this extraordinary home sits on two acres just above "Billionaire's Beach." With sweeping views of the Pacific Ocean, this 21,500 square foot, eight-bedroom home was recently featured in Architectural Digest. A long private driveway leads to a dramatic waterfall entry, a state-of-the-art work out room, tennis court, a stunning infinity pool, fountains and 1,000 square foot guest house – this is an event not to be missed.
The estate sale features the lifetime collection of Edward and Shari Brown. Mr. Edward Brown was the entertainment agent to many film and television stars of Beverly Hills. His beautiful, 21,500 square-foot estate is filled with treasures such as exquisite furniture, Art Deco Chiparus bronze sculptures, Lucite furniture, garden statuary, paintings, Tiffany, and much more.
For more information go to the Kaminski Auctions website http://www.kaminskiauctions.com