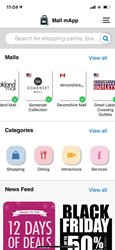 We look forward to providing shoppers with a valuable solution that helps to ease the stress of the busy holiday shopping season. - Paramvir Nagpal, CEO of Mapsted Corp.
MISSISSAUGA, Ontario (PRWEB) November 22, 2019
Mall mApp will provide effortless indoor navigation to thousands of shoppers this holiday season, on a daily basis. Customers will be able to experience this enhanced shopping experience without depending on beacons, Wi-Fi, or Bluetooth. Along with the navigation capabilities of the program, shoppers in the malls can take advantage of Mall mApp's personalized news feed, which will provide users with valuable and relevant information, from store events to notifications about the latest sales.
Malls that will support Mall mApp's indoor navigation platform include: Sherway Gardens, Dufferin mall, Yorkdale Shopping Centre, Toronto Eaton Centre, Vaughan Mills, Fairview mall, Hillcrest Mall, Scarborough Town Centre, Markville Shopping Centre, Stone Road Mall, Devonshire Mall, Oakland Mall, Somerset Collection, Great Lakes Crossing Outlets, Fairlane Town Center, and Twelve Oaks Mall.
Welcome to Mall mApp, it's time to start malling! Here's the access to download the ultimate shopping experience app.
iOS: https://apple.co/2oXeJ5c
Android: https://bit.ly/35dnKaJ
"We are very excited to be bringing our technology to even more malls," said Mapsted Founder & CEO Paramvir Nagpal, "We have had tremendous feedback from our app in places like Devonshire Mall, and we can't wait to deliver the same enhanced customer experience to more shoppers as we enter this year's holiday season. We look forward to providing shoppers with a valuable solution that helps to ease the stress of the busy holiday shopping season."
###
About Mall mApp
Mall mApp turns aimless mall visitors into goal-driven customers. This app helps shoppers by giving them turn-by-turn directions to the stores they want to visit, taking the frustration out of their mall experience. Shoppers are free to create their own routes and reach their destination without wasting any time. Based on real-time location information, each user has the option of choosing the best path through the mall, no matter how many stores they plan on visiting.
In addition, Mall mApp offers a comprehensive search engine for stores and products. Users can conduct in-app searches by name or category, which makes wayfinding even simpler.
An innovative and personalized news feed lets shoppers stay up to date on store events, deals, and new features exactly when they need it. And there's even a parking tag feature, which allows shoppers to easily remember where they parked.
And this technology doesn't rely on external hardware. There's no need for malls to install Bluetooth, beacons, or Wi-Fi, saving them money on maintenance and repairs. And since Mall mApp doesn't rely on external hardware, shoppers never have to worry about losing signal or entering dead zones. They will always have access to our innovative and highly accurate platform.
For more information, visit https://mallmapp.com/
About Mapsted Corp
Mapsted is an innovative Canadian technology firm and a world leader in indoor navigation solutions.
Unlike competing platforms, Mapsted's stand-alone patented solution doesn't rely on the use of expensive external hardware to determine position, making it highly accurate, scalable, and inexpensive. The company holds 40 patents and has over 50 patents pending for its innovations.
Mapsted offers two unique products to its clientele. Mapsted SDK provides indoor location-based solutions for airports and airlines; museums and art galleries; big box retailers; colleges and universities; trade shows and exhibitions; and resorts and parks. Mall mApp caters to retailers and shopping centres.
Mapsted SDK is a platform for businesses to enable their applications with next generation location-based services. Businesses can leverage advanced indoor navigation and positioning technology, engage customers with hyperlocal, intelligent marketing solutions, and get deep insights into customer behaviour with a comprehensive location-based analytics suite to take their company to the next level.
Mapsted's Mall mApp is the ultimate shopping experience app with smart navigation, news feed, and more.
For more information, please visit https://mapsted.com/